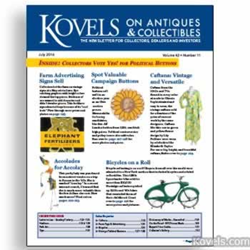 Cleveland, Ohio (PRWEB) June 30, 2016
Wearable caftans from the 1960s and '70s flowed in every color at a Chicago auction and are featured in a sale report in Kovels on Antiques and Collectibles July 2016 newsletter. See pictures and prices of sophisticated caftans by well-known designers that sold for much less than current caftans by the same designers. Collectors bet the farm on agriculture-related signs at an Iowa sale where vintage farm ads drew worldwide interest. Eye-catching graphics in bright colors claimed top prices, like the Case Farm Equipment eagle on globe sign that brought over $11,000. This sign and others are in Kovels' July newsletter. An Ohio auction proved that political campaign buttons sell well in an election year, and that even memorabilia of losing candidates can bring high prices. Examples of buttons featuring presidential candidates from William McKinley to Michael Dukakis that sold in the thousands are pictured in Kovels' July issue.
Classic bicycles were offered at a New York auction where an 1889 King high wheel safety bicycle rolled away for the top price of $18,720 and an early 1970s Schwinn Stingray topped $2,000. Other 19th and 20th century bicycles as well as bike-related collectibles can also be found in Kovels' latest issue.
Terry Kovel writes about a whimsical and inexpensive Accolay pottery purchase on a 1960s trip to France that turned out to be quite a treasure. Kim Kovel goes "on the road" to New York City to experience Frieze Week with its top art and design shows. The popular illustrated Collector's Gallery answers readers' questions about a sand majolica vase, a Safety-First Policeman for the back window of a car, an old Philco radio and a mysterious cast iron rabbit with holes. July's Dictionary of Marks features many variations of crown and crossed swords marks found on Rosenthal & Co. porcelain. And more than 70 antiques and collectibles are listed in the Buyer's Price Guide.
Kovels on Antiques and Collectibles is available as a print subscription, or as a digital version that is part of the Kovels.com Premium subscription.
Terry Kovel is America's foremost authority on antiques and collectibles. She is the well-known columnist and author of more than 100 books on antiques and collecting. With her daughter, Kim Kovel, she co-authors the best-selling annual Kovels' Antiques and Collectibles Price Guide. The 2016 edition is now available at Kovelsonlinestore.com and local bookstores. They will discuss antiques and collectibles topics with accredited media. Photographs are available. Contact pr(at)kovels(dot)com.
About Kovels.com
Kovels.com, created by Terry Kovel and Kim Kovel, provides collectors and researchers with up-to-date and accurate information on antiques and collectibles. The company was founded in 1953 by Terry Kovel and her late husband, Ralph. Since then, the Kovels have written some of America's most popular books and articles about antiques, including the best-selling Kovels' Antiques and Collectibles Price Guide 2016. The website, Kovels.com, online since 1998, offers more than a million free prices, and includes a free weekly email, "Kovels Komments." It gives readers a bird's-eye view of the market through the latest news, auction reports, a Marks Dictionary, readers' questions and answers and much more.
Contact Information:
Liz Lillis
216.752.2252
Pr(at)kovels(dot)com