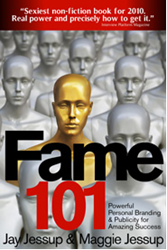 Mensans are among the more remarkable people in their fields and Thought Leader Marketing can help them gain the visibility and professional recognition they deserve. - Maggie Jessup
San Diego, California (PRWEB) June 29, 2016
Maggie Jessup, Fame 101 author and managing agent for some of America's most visible professionals, is set to keynote at Mensa's national Annual Gathering July 1st in San Diego, California on the subject of Thought Leader Marketing.
Mensa conference attendees, typically in the top 20% of their professions due in part to their Mensa membership required top 2% IQ, will learn how to use Thought Leader Marketing to catapult their competitors to become a high visibility national leading voice in their professional field.
Maggie Jessup's message will demonstrate how experienced professionals:

Brand and package their expertise as a foundation for Thought Leader status;
Excel at content marketing to become the go-to expert, Thought Leader, in any field;
Master PR (Public Relations) to capture the media spotlight for an aura of professional celebrity that leaves competitors behind by earning national exposure and visibility;
Apply both online and offline marketing strategies for maximum success and influence;
Monetize and otherwise leverage their Thought Leader status.
Platform Strategy founder and Elite Lawyer Management co-founder, Maggie Jessup will share the proprietary formula she uses daily to package, launch, promote and publicize experienced professionals in all fields including startup gurus, notable medical professionals, prominent lawyers, leading edge scientists, high trajectory business leaders and others.
"I can think of no better audience for Thought Leader Marketing than Mensans," said Maggie Jessup. "By definition they are among the more remarkable people in their fields and these tools can help them gain the visibility and professional recognition they deserve and the income (and fun and opportunities) that results from Thought Leader Marketing."
PR expert Maggie Jessup's Mensa engagement is the first stop of her West Coast lecture tour.
Media Contact: jay(at)platformstrategy(dot)com 360.909.0527
About Mensa: Mensa is an international society with the membership qualification standardized testing results in the population's top 2%. The nonprofit's purpose is to conduct research in psychology and social science, identify and foster human intelligence for the benefit of humanity and serve as a means for stimulating intellectual and social contacts among its membership.
About Maggie Jessup: Former award winning investigative reporter Maggie Jessup, author of Fame 101 and co-star of the reality series Celebrity Damage Control, founded and leads the national PR and personal branding firm Platform Strategy. She also works as a managing agent at Elite Lawyer Management, a firm she co-founded to serve America's leading attorneys and law firms. She authored the bestseller Fame 101 (Sutton Hart Press) and will soon complete Celebrity Sins, Spins and Spurs: A Comeback Playbook.