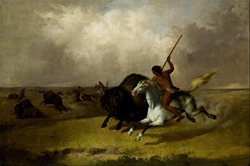 Heritage is something worth honoring.
(PRWEB) July 01, 2016
Businesses adopting attributes, or even entire products, from other cultures for financial gain seems to be a growing concern among many people. According to Fraser University archaeology professor, Dr. George Nicholas, cultural appropriation can damage that group's reputation.
In one of many protested auctions, A Texas auction house is set to sell some interesting pieces in their upcoming showcase. Among these artifacts and antiques are the remnants of the Battle of Wounded Knee. The ceremonial pipes of two famous tribal leaders, Chief Red Cloud and Chief American Horse, are among these treasures. Members of the Oglala Sioux Tribe are protesting the sale of these sacred objects. In their faith, ceremonial pipes are used to send prayers to the Great Spirit above and pieces to be respected.
NativeAmericanJewelry.com wants to help address the problem of cultural appropriation so the people of different cultures can finally receive the credit and recognition they deserve.
The team at NativeAmericanJewelry.com, who proudly represent several tribes and many more Native American artists, want to remind people of the cultural significance these objects play into their history, faith, and future. Spokesman for NativeAmericanJewelry.com, Steven Onida, stated:
"Heritage is something worth honoring. I believe, firmly that businesses should work with the cultures they represent or endorse in a respectful way. We at NativeAMericanJewelry.com have the opportunity to meet, learn from, and grow with our Native artists to bring their work to the public and we would love to see more businesses do the same."
As a direct result of the news about the Texas auction house, Onida and his team are spreading the word of cultural appreciation for the Native American community by giving business owners and customers advice before they decide to purchase something that could be potentially damaging to a culture.
Dr. George Nicholas and NativeAmericanJewelry both agree that after asking the question "has this design been created with any kind of input from the native artists and indigenous community?" should people still but it. Onida and the team at NativeAmericanJewlery.com are proud to work closely with artists, from many different tribes, to provide the general public with art, jewelry, and history through their store. Working directly with the people of the culture they emulate on their site is why Onida believes NativeAmericanJewelry.com is perceived so positively by the tribes and the general public that they sell to as well.
NativeAmericanJewelry.com's announcement is intended to spread the message that "businesses need to develop a relationship with the cultures they represent in order to meet the growing demands of a diverse country that is constantly moving closer towards cultural understanding," added Onida.
The company also encourages people to support modern Native American artists that are frequently represented on their site, like Clinton Polacca's (Nampeyo) wonderful pottery or Keith Torres and his stunning hand-carved Kachina dolls.