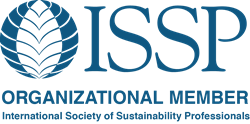 Organizational Members receive enhanced access to the ISSP community and individual ISSP membership benefits for their employees.
Hartford, CT (PRWEB) June 30, 2016
The International Society of Sustainability Professionals (ISSP) has introduced a new Organizational Membership category that provides companies with an opportunity to support the mission of ISSP along with a package of benefits that includes enhanced access to the ISSP community and individual ISSP membership benefits for their employees. Previously, only individuals have been able to become members of ISSP, the world's leading professional organization for sustainability professionals, which has certified more than 240 people worldwide as ISSP-Certified Sustainability Professionals or (ISSP-CSP) ISSP-Sustainability Associates (ISSP-SA) in the past year.
More than a dozen companies and not-for-profit organizations from around the world have already registered as ISSP Organizational Members, including:

Cisco Systems Inc., San Jose, California
The Natural Step, Stockholm, Sweden
Sustainable Business Consulting, Seattle, Washington
ECOSteps, New South Wales, Australia
Regenerativa, Santiago, Chile
American Sustainable Business Council, Washington, DC
Sustainable Solutions Corp., Royersford, Pennsylvania
Ethical Markets Media, St. Augustine, Florida
Eco-officiency, Boulder, Colorado
Sustainability Resources Ltd., Calgary, Alberta
Paul Redvers Brown Inc,, Carlsbad, California
STAR Communities, Washington, DC
SustainAsia, Hong Kong
"Through their initial support of this new program, these pioneers have shown a real commitment to ISSP's mission of empowering professionals to advance sustainability in organizations and communities throughout the world," said Maureen Hart, executive director of ISSP. "Their employees will benefit from the professional development opportunities that ISSP offers and the organizations will benefit from greater visibility throughout the sustainability professional community. We look forward to partnering with these and other organizations who share our vision for making sustainability standard practice around the globe."
"The Natural Step is a global organisation that works in partnership with sustainability champions across a wide range of industries to support their transition to a thriving and sustainable future," says Eric Ezechieli, chairperson of The Natural Step, which is headquartered in Stockholm, Sweden. "Collaborating with progressive organisations like ISSP enables us to stay connected with professionals who recognise the benefits and potential of a strategic response to sustainability challenges," he continued. "We know from experience that raising people's understanding about sustainability challenges, and how to maximise value through a smart and considered response is fundamental to successful outcomes. So, we applaud and whole-heartedly support the educational focus of ISSP's work which complements our own efforts to accelerate the transition to a sustainable future."
Says Kevin Wilhelm, CEO of Sustainable Business Consulting based in Seattle, WA, "Sustainable Business Consulting is a member of ISSP because we believe that it not only provides excellent services and learning opportunities, but is the premier place to network and be a member as a sustainability professional."
About the ISSP Organizational Membership Program
For-profit organizations pay just $1000 annually and non-profits $750 each year to get thousands in value as part of each ISSP Organizational Membership. Benefits include:

Individual memberships for up to three employees
Discounts on additional individual memberships
Ads on the home page of the ISSP Website, in e-mailers and elsewhere on the ISSP website
Preferred treatment on ISSP's social media channels including LinkedIn, Twitter and Facebook
Acknowledgement as an ISSP Webinar sponsor
For more information and to register as an ISSP Organizational Member, visit http://bit.ly/Org_Member.
About ISSP
The International Society of Sustainability Professionals (ISSP) is the world's leading professional association for sustainability professionals. ISSP is a member-driven association committed to moving the profession of sustainability forward by leading the design and delivery of ISSP Sustainability Professional Certification, and by building strong networks and communities of practice. Webinars, online courses, a sustainability educational certificate, sustainability professional's body of knowledge, special reports, resource directories and salary surveys are just a sampling of the rich content offered to members. Formed in 2007, ISSP boasts almost 1000 members from every region of the world.