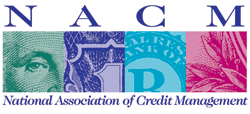 The combined reading for the manufacturing and services sectors declined to 52.7 from 53.8, as low as it has been since November of last year when it hit 52.6.
Columbia, MD (PRWEB) June 30, 2016
Amid returned deterioration in several industries, the June report of the Credit Managers' Index (CMI) from the National Association of Credit Management (NACM) showed conditions dropping to their worst level since November.
The combined CMI reading for the manufacturing and services sectors slipped to 52.7, down from May's 53.8. However, the favorable factors categories remained significantly closer to 60 than the contraction zone (anything below 50). Notably, the results don't take into account the United Kingdom's vote to leave the European Union.
"Since the statistics were collected prior to the 'Brexit' explosion, all eyes will be on the data coming in a month or so," said NACM Economist Chris Kuehl, Ph.D. "The first place a crisis is likely to show up will be in the unfavorable factors, as companies that have exposure to the U.K. or Europe will possibly see more disputes, needs for collection action and bankruptcies," said NACM Economist Chris Kuehl, Ph.D.
The unfavorable factors categories in June illustrated the greatest strain, as their aggregate reading slipped below last month's 51 level and into contraction territory at 49.9. In all this month, four of the six unfavorable categories now sit in contraction territory. There was a small drop in the category of rejections of credit applications from 51.9 to 51.2. This reading likely indicates that companies are requesting less credit rather than a matter of creditors reducing what they are offering—if there was a developing trend of creditor reluctance, it likely would have started to show up here.
"The dark clouds on the manufacturing horizon include a decline in the sales of new cars and the potential drop in export demand as the dollar gains a lot more strength against the pound and the euro. How this will all play out remains to be seen," said Kuehl. As for services, "there are still serious issues in the retail community, and the slow pace of consumer activity has not helped. There has been better news in the construction sector and in health care, but the consumer continues to vex the retailer and stunt growth."
For a full breakdown of the manufacturing and service sector data and graphics, view the complete May 2016 report at http://web.nacm.org/CMI/PDF/CMIcurrent.pdf. CMI archives may also be viewed on NACM's website at http://www.nacm.org/cmi/cmi-archive.html.
ABOUT THE NATIONAL ASSOCIATION OF CREDIT MANAGEMENT
NACM, headquartered in Columbia, MD, supports more than 15,000 business credit and financial professionals worldwide with premier industry services, tools and information. NACM and its network of affiliated associations are the leading resource for credit and financial management information, education, products and services designed to improve the management of business credit and accounts receivable. NACM's collective voice has influenced federal legislative policy results concerning commercial business and trade credit to our nation's policy makers for more than 100 years, and continues to play an active part in legislative issues pertaining to business credit and corporate bankruptcy. NACM's annual Credit Congress & Exposition conference is the largest gathering of credit professionals in the world.