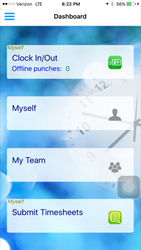 NOVAtime is dedicated to ensure FMLA regulations are prioritized within our products. We want employees to have easy access to manage their FMLA requests anytime, anywhere, on any device.
Diamond Bar, California (PRWEB) June 30, 2016
NOVAtime Technology, Inc. (http://www.novatime.com), a leading provider of enterprise Time & Attendance and Workforce Management solutions, announced its newest release of its mobile application, NOVAmobile™. Released as a free download from App Store on June 23rd and Google Play on June 24th, this app supports a newly released FMLA add-on solution, a new Dashboard, and French Canadian language.
The latest updates to NOVAmobile can be seen almost immediately in the sleek new Dashboard. The Dashboard may be configured to add shortcuts for employees to clock in/out, perform job transfers, and submit their timesheets for payroll using their mobile devices. The Myself icon organizes the functions available for the employees while the My Team icon lets actions be taken regarding the whole team. NOVAmobile will track time and attendance in real time using push technology.
One of the most helpful features that have been added to NOVAmobile is the ability for employees to submit FMLA leave requests from their phones. "NOVAtime is dedicated to supporting FMLA regulations from the web pages down to native mobile apps," said Brian Meharry, Vice President of Business Development, "We want employees to have easy access to manage their FMLA requests anytime, anywhere, on any device."
With the newly added French Canadian language, the latest NOVAmobile app is available in five different languages: English, Spanish, French Canadian, Simplified Chinese, and Traditional Chinese. Use of NOVAtime's time and attendance mobile app does require some configuration and authorization by a company's system administrator, but offers a more accurate timekeeping / workforce management system for employees who work from home, travel for work, or even work in an office setting.
About NOVAtime
NOVAtime is headquartered in Diamond Bar, California, and has become the leader in integrating Time and Attendance Management with Human Resources and Payroll systems. Known for its scalable and leading-edge software and hardware technology, NOVAtime has been selected as the preferred Time and Attendance / Workforce Management solution provider by many of the best-managed companies in the world. For more information on NOVAtime, please visit http://www.novatime.com or call 877.486.6682.