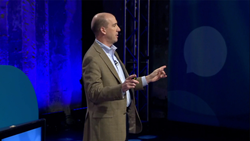 This work is about helping others harness and leverage the changes that are happening at en ever accelerating pace.
New York, NY (PRWEB) June 30, 2016
In Italy, in the early half of the 20th century, a movement began called Futurism. The practitioners emphasized, among other things, speed and technology, focusing on objects such as the car, the airplane, and the industrial city.
Today, Jack Uldrich figures prominently as a Global Futurist. Though he is nowhere near as political as the people who began the movement, many of the subjects such as speed, technology, transportation and living spaces are areas Uldrich researches, speaks and writes on.
"The more things change, the more some things stay the same," says Uldrich. "That said, the one thing that serves as a constant throughout time is change itself. This work is about helping others harness and leverage the changes that are happening at an ever accelerating pace."
During the month of July, Uldrich has five engagements lined up across the US:
July 12, 2016, FCC Services • Great Falls, MT
July 18, 2016, NSPRA National Seminar • Chicago, IL
July 25, 2016 Appraisal Institute • Charlotte, NC
July 26, 2016, President's Conference Illinois Farm Bureau • Normal, IL
July 28, 2016, Sustainable Energy Fund • State College, PA
Uldrich lists Block chain, Chatbots, 3D Printing, Nanotechnology and Artificial Intelligence as some of the current game-changers on the market.
In addition to the technology itself Uldrich also speaks on how to embrace the technology with shifting organizations' mindsets. His concept for that is "The Big AHA" which is his acronym for Awareness, Humility, and Action. As the Founder of the School of Unlearning, he makes it a priority to point out to his clients how to, "unlearn obsolete ways of thinking that no longer serve them."
He has spoken at events around the world most recently in London, Calgary, and Belgium. Recent clients include Oticon, Honeywell Users Group, Cognizant, ENMAX, EisnerAmper, the Urban Land Institue and the Southwest Graduate School of Banking.
For more information on Jack Uldrich and these upcoming events, his website can be viewed here.