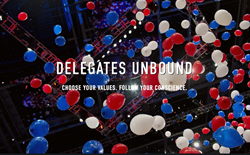 This polling data affirms that Donald Trump, if the Republican nominee, would essentially forfeit the presidency to Hillary Clinton
(PRWEB) June 29, 2016
A new poll by Evolving Strategies and Ballotpedia surveyed voters in seven battleground states and found Hillary Clinton soundly defeating Trump across the board, while either losing or being neck-and-neck with other potential Republican candidates.
This poll highlights the importance of Delegates Unbound's strong argument that all delegates have the authority to vote their conscience and a duty to their party to support someone who best represents Republican values and can ensure GOP victory in November.
In response to the poll, the Washington Post's Jennifer Rubin writes "GOP delegates shouldn't pick the worst candidate available" when they head to Cleveland. The Weekly Standard writes that this gives "reason to think a different GOP candidate could do much better and even beat Clinton in these swing states" where Trump trails badly.
Delegates Unbound co-founder M. Dane Waters said: "There is a sound historical and legal basis for the position that all delegates are not bound to vote for any particular candidate and actually have the obligation as delegates to vote both their conscience and what is best for the party. This polling data affirms that Donald Trump would essentially forfeit the presidency to Hillary Clinton, and delegates should take that into strong consideration as they head to Cleveland to decide on who can actually stop Hillary Clinton in November. It is clear, that isn't Donald Trump"
For more details on the Ballotpedia poll visit: https://ballotpedia.org/polling