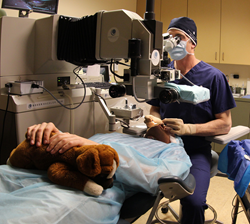 Beverly Hills, CA (PRWEB) June 30, 2016
This year, LASIK celebrates its 25th year anniversary, marking over two and a half decades since the groundbreaking corrective procedure was developed by Dr. Ioannis Pallikaris of Greece and Dr. Lucio Burrato of Italy. This June Brian Boxer Wachler, MD of the Boxer Wachler Vision Institute will be speaking at multiple conferences on LASIK including one meeting in Europe that commemorates the 25th Anniversary of LASIK.
Dr. Brian Boxer Wachler, regarded as an innovator in the field of vision correction, has paved the way in the field of refractive eye surgery and keratoconus for nearly two decades. He has pioneered surgical techniques and guidelines that have become industry standard. He was the Director of the UCLA Laser Refractive Center at the Jules Stein Eye Institute for many years and is Board-Certified by the American Board of Ophthalmology. Dr. Brian produced and directed an entertaining film "Behind the Lens" about doing live eye surgery in front of millions of people on NBC's Today Show. He is also the author of the LASIK Consumer Report, one of the most detailed and widely consulted consumer publications in the field, read by over 73,000 people.
And still 20 years later, Dr. Brian continues to make strides in the field of LASIK.
Dr. Brian acknowledges how far LASIK has come over the past 25 years. The first generation of LASIK was designed in 1991 to reshape the cornea and has since become one of the most common procedures done today with more than 28 million people worldwide who have had LASIK. Today, LASIK has some of the highest success rates of any surgical procedure in medicine. Since becoming FDA approved, LASIK has become a widely accepted mainstream procedure that many people nowadays plan to have after age 18 in a similar way as they would plan to get orthodontic braces or any similar corrective techniques. And incredibly, LASIK has stood the test of time.
As LASIK continues as one of the most mainstream and common procedures, the future of LASIK looks bright. The technology has continued to advance with recovery times are down to typically a day and actual surgery taking typically only 7 minutes on each eye. Advances like Fortified LASIK®, a proprietary procedure invented by Dr. Brian that combines LASIK and accelerated Holcomb C3-R crosslinking, continue to be made. Fortified LASIK® reinforces and strengthens the cornea to help reduce the risk of unwanted side effects and complications. "Any procedure evolves over the years as advances are made to it by doctors around the world. LASIK is no different and it has been an honor to have helped with that evolution alongside my colleagues."