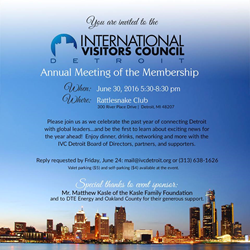 Citizen diplomacy is the concept that the individual citizen has the right, even the responsibility, to shape U.S. foreign relations "one handshake at a time."
Detroit, Michigan (PRWEB) June 30, 2016
On June 30, 2016 at the Rattlesnake Club in dynamic downtown Detroit, The International Visitors Council of Metropolitan Detroit (IVC Detroit) becomes Global Ties Detroit, part of the network of Global Ties US organizations headquartered in Washington, DC with branches around the country. Global Ties Detroit, formerly IVC Detroit, is a nonprofit organization founded in 1972 that administers international exchange programs on behalf of the U.S. Department of State, the United States Agency for International Development (USAID), and other organizations who have an interest in promoting international relations. Each year Global Ties Detroit brings hundreds of international visitors to Detroit, introducing them to the city, its citizens and the metro area's vast professional resources.
Global Ties Detroit is governed by a Board of Directors and has a volunteer membership driven by Detroiters who promote citizen diplomacy. Citizen diplomacy is the concept that the individual citizen has the right, even the responsibility, to shape U.S. foreign relations "one handshake at a time." Along with their national counterparts, the Detroit volunteers were nominated for the 2001 Nobel Peace Prize.
Global Ties Detroit is pleased to welcome members and guests to the 2016 Annual Meeting of the Membership and launch of Global Ties Detroit. President Sam Yono will review just a few of the many highlights from the 2015-2016 fiscal year, including an increase in International Visitor Leadership Program (IVLP) projects. Executive Director Marian Reich will make note of the special events this year. Julie Egan, Deputy Director, White House Working Group in Detroit and Senior Advisor, US Department of State, and Jim Wolf, Board Chair, Global Ties US, will also present on the importance of international connections in SE Michigan.
The new website is http://www.globaltiesdetroit.org.