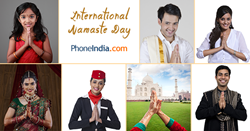 Ever since I've started using PhoneIndia, I've never looked back. The service is top quality and the lines are always clear. Cost wise too I think PhoneIndia is the best available in market. (Rock's review on Trustpilot.com)
Atlanta, Georgia (PRWEB) July 01, 2016
PhoneIndia.com, that has been serving Indians worldwide since 2008, launches for the first time in human history International Namaste Day on July 5, 2016 for all Indians abroad, Yogis and Travelers. The day will celebrate the meaning of Namaste, and praise its value in communication and personal-development. 3 prizes, worth $5 each, will be offered by PhoneIndia.com on its Facebook Community page, open for anyone. Indian expats are invited to greet the PhoneIndia Facebook community with "Namaste from" and mention their location to enter the race for one of the 3 gifts. Namaste selfies are highly encouraged too, so that the Indian community can interact on a personal level too: https://www.facebook.com/PhoneIndia/
The first Namaste Day in history is meant to have a global impact, and gifts offered by PhoneIndia.com will make it festive. 347 minutes to call landlines and mobiles in India will be offered to 3 people picked randomly. Everyone who leaves a comment saying "Namaste from" plus his/her location will enter the gift race on July 5, 2016. Pictures and GIFs are welcome too on the PhoneIndia.com Facebook page: https://www.facebook.com/PhoneIndia/
The prizes consist of international calling credit to make long distance calls using a PhoneIndia.com balance, which works similar to a calling card. The only difference is that calling credit with PhoneIndia needs to be purchased online and calls are made using the PIN received on the first order on PhoneIndia.com. On the other hand, a calling card requires one to travel to the store, stay in the queue sometimes to get it, and costs are higher due to offline administrative spendings.
To use the international calling credit on PhoneIndia.com, one must create a free account on the website. This takes less than 1 minute and comes with a bunch of benefits.
PhoneIndia.com, the initiator of International Namaste Day 2016, is a service dedicated to Indian expats. It facilitates international calls to India at the lowest rate on the market, lower than 1 cent per minute with a monthly plan: 0.7¢/min. The alternative is a Voice Credit balance for life that helps one make calls to India at 1.4¢/min. The low rates to India are possible thanks to the VoIP technology PhoneIndia.com uses.
Having an account on PhoneIndia.com comes with a number of free benefits:

There are 4 features that can optimise the calls, so that they look like local calls in terms of time and easiness.
Customers have direct access to their calling records, at any time, with no fees.
All transactions and invoices are available online.
Several payment methods are available: all major cards and PayPal.
The account is mobile-friendly, just like the rest of the website, so anyone can access it on the go.
Payment is welcome in any currency, no matter the country of residence.
Promotions, contests and other events are available on Facebook for all fans, or by email once subscribed to the Newsletter (click on the "Get offers" button in the footer of PhoneIndia.com).
There are 3 ways to call India with PhoneIndia.com, according to the lifestyle and devices one uses to communicate:

Smartphone users can install the KeepCalling app for free on their iOS and Android devices and call on the go.
Those who prefer to call without using the Internet, can use an access number in the area they live.
Those who prefer to call from their PC, sitting in a comfortable chair, can use the Web Call desktop app, available in one's account; it requires no download.
Plus, for any online purchase made on PhoneIndia.com, the buyer gets a certain amount of Thank You points based on the value of the credit. These points can be converted into Voice Credit for future calls, without paying a thing.
Besides Voice Credit for calls to India and other destinations in the world, PhoneIndia.com offers top ups of mobiles in India. This is widely used by Indians to top up their families' and friends' mobile phones, and even to load their own phones online, in few seconds, and avoid any hassle. At present, 12 types of mobiles in India can receive phone credit from abroad: Vodafone, Airtel, !dea, BSNL, Docomo, Aircel, MTNL, MTS, Reliance, TATA Indicom, Uninor, Videocon.
PhoneIndia.com has been serving the Indian diaspora since 2008, facilitating long-distance calls and long-distance credit transfer. The website is a brand of KeepCalling, a global telecommunications company registered in 2002 in the USA. Presently, KeepCalling provides its services to hundreds of thousands of consumers, with a focus on customer satisfaction. KeepCalling has been listed by Inc 5000 as one of the fastest growing companies in the USA for 5 consecutive years. In 2015, the company registered a revenue increase of over 200% from 2011 to 2014.