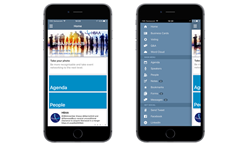 After reviewing the current event app marketplace, we selected SpotMe as the best fit for our purposes.
Lausanne, Switzerland (PRWEB UK) 5 July 2016
Under this partnership, SpotMe will work with the HBAA executive and event team to create a unique event app experience for their 300 participants, delivering rich content, relevant subjects and launching new and exciting HBAA initiatives. Interactive sessions will feature live polling and instant word clouds to capture key insights from participants on hot topics, while panel discussions will be fuelled by the app Q&A solution, steered by its advanced moderation and control tools. Networking activities will be encouraged through the app with LinkedIn integration, photo gallery, instant messaging, participant directory and business card exchange.
Future considerations include SpotMe supporting upcoming HBAA members meetings and networking events throughout the year, with the creation of a unified event app for HBAA members. In this multi-event app scenario, SpotMe will be rolling out its new in-app invitation tool, which leverages the existing app installed base for invitations to new events and reduces the friction associated with participant app adoption and onboarding.
For SpotMe, this agreement with HBAA is also key for establishing a dialogue with agencies and venues. "With more than 25% of our business generated by channel partners, we are looking forward to learn from HBAA members and understand how an event app can fit their value creation strategies", said Nick Mathot, Business Development Manager EMEA at SpotMe. "Successful channel partners have adopted our Backstage app and content management system, assembled in-house event app teams trained and supported by our customer success team and they are delivering hundreds of white label event apps per year for their customers. Our next goal is to empower our channel partners to develop unique innovations that satisfy their customers' specific business requirements, in particular in the areas of business leadership, learning & development, healthcare and financial services."
HBAA Executive Director Juliet Price said: "After reviewing the current event app marketplace, we selected SpotMe as the best fit for our purposes. We are delighted with the partnership and SpotMe's innovative app features which support our Association's strategy of providing a channel for connecting people and businesses, as well as adding a fully inclusive and interactive dimension to our membership events."
About SpotMe
SpotMe was founded with the vision of transforming meetings and inspiring participants. Since 2001 our dedicated global team has delivered apps and interactive meeting tools for thousands of events and millions of participants around the world. With our first­hand industry experience we have assembled the most robust event app with the most comprehensive tool suite on the market. Our flexible service offering is tailored to the requirements of leading event professionals and Fortune 500 companies, while our Backstage content management system means that no matter the event size, the SpotMe event app is sized to fit. Spark new ideas, kick-start networking, build teams, drive strategy rollouts and transform education: the SpotMe mobile event app can do all that and more. http://www.spotme.com
About HBAA
The HBAA is the business advisory association for Agents and Venues. Our members specialise in the procurement and provision of accommodation, conference, meeting and event facilities and services in the UK and internationally on behalf of clients. Since 1997, the HBAA has been proactively helping businesses and individuals to achieve ever higher professional standards. The HBAA runs a busy schedule of Learning and Professional Development, meetings and networking events throughout the year. It is the voice of the sector to Government and to business at large; encouraging and nurturing innovation and best practice that continually advances the industry. We have agency, hotel, apartment and specialist venue members - ranging from global brands to independent properties. All members agree to adhere to the HBAA Code of Practice; it defines best practice between agents and venues, thus protecting the interests of their clients. Our success is measured by matching the often complicated needs of our clients to the destinations and venues that will deliver hugely successful outcomes and build long-term relationships. HBAA is setting the standard for the hospitality sector. http://www.hbaa.org.uk