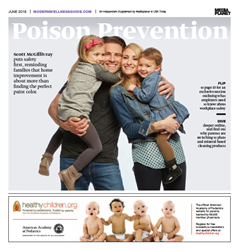 (PRWEB) June 30, 2016
Accidental poisoning is much more common than people expect. As such, it's important for everyone to have a sense of what they can do to prevent these poisonings and even more important that they which steps they need to take in the midst of an emergency situation, bet it a medication overdose or snake bites. This campaign highlights common threats and the best action steps people can take to protect themselves and their families from potential poisonings.
Scott McGillivray, star of HGTV's "Income Property," graces the cover of the print campaign. In the Home Improvement safety guide Mediaplanet constructed using his expertise, Scott shares, "I've been involved with around 300 renovations, and it's rare that we don't encounter something hazardous that can be a threat to health and safety." McGillivray sums up the importance of taking appropriate safety measures in the home with one simple statement: "You may not know, but your home could be killing you."
The print component of "Poison Prevention" is distributed within the Thursday, June 30 regional circulation of USA Today, with a circulation of approximately 250,000 copies and an estimated readership of 750,000 within the New York, Los Angeles, Minneapolis, Houston and DC/Baltimore markets. The digital component is distributed nationally, through a vast social media strategy, and across a network of top news sites and partner outlets. To explore the digital version of the campaign,click here.
This edition of "Poison Prevention" was made possible with the support American Association of Poison Control Centers, HGTV's Scott McGillivray, The National Safety Council, The Institute of Food Technologists, The Occupational Safety and Health Association, Environmental Working Group, Green and Healthy Homes, Children's Environmental Health Network, Home Advisor, American Academy of Pediatrics, American Cleaning Institute, All Laundry, AspenClean, Avery Products Corporation, Broan-NuTone, DNV GL, Earthstone International, Gensuite, Gracious Home, P&G Professional, BTG International and many more.
About Mediaplanet
Mediaplanet is the leading independent publisher of content-marketing campaigns covering a variety of topics and industries. We turn consumer interest into action by providing readers with motivational editorial, pairing it with relevant advertisers, and distributing it within top newspapers and online platforms around the world.
Press Contact:
Jamie Bradley
Jamie.bradley(at)mediaplanet(dot)com
646-922-1404