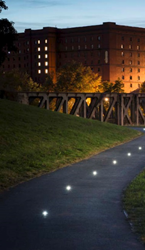 (PRWEB UK) 30 June 2016
Solispost has added the solareye lighting stud to its range of solar powered lighting for cycle ways and footpaths.
Solareye is a low profile (6mm) 360° visibility lighting stud that can be seen from up to 500 metres away. It is easily installed into the surface of the path requiring no electrical connection. Its integrated solar cell generate energy during daylight hours which is then used by LED lamps to provide guide lighting along the path during the hours of darkness. The solareye is programmed to automatically illuminate at dusk and switch off at dawn.
Solareyes are normally positioned along the centre line of footpaths and combined foot and cycle ways. They can also be located at either edge of wider pathways. They can operate in temperatures from -20C to +70C.
In locations where light pollution must be minimised, solareye is available with a 'bat hat' which sits over the solareye reducing upward light loss by around 98% without reducing the lighting effect to pedestrians and cyclists using the pathway. This is particularly valuable in rural situations and conservation areas.
Manufactured from high impact, engineering grade polymer, solareyes are available with a continuous or a slow flashing light, and with yellow, green, blue and red LED lamps in addition to the standard white lighting.
Solareyes are not designed for highways and high traffic driveways but have been extensively impact tested and shown to be well able to withstand the occasional transit by heavy goods vehicles.
Solareye is CE certified, guaranteed for two years with an expected life of more than eight years. Solareyes are waterproof with an IP68 rating making them suitable for waterside locations such as canal paths and quaysides.
As well as being available in the UK direct from solispost, distributors have been appointed in Canada, the Netherlands, Switzerland and the UAE.