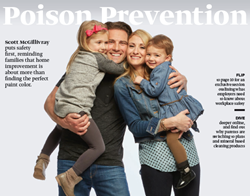 (PRWEB) June 30, 2016
Mediaplanet today announces distribution of its latest cross-platform campaign, "Poison Prevention," which sheds light on the potential dangers facing families within the home, as well as the dangers facing key industries from construction to food production.
The print component of "Poison Prevention" is distributed within the Thursday, June 30 regional circulation of USA Today, with a circulation of approximately 250,000 copies and an estimated readership of 750,000 within the New York, Los Angeles, Minneapolis, Houston and DC/Baltimore markets. The digital component is distributed nationally, through a vast social media strategy, and across a network of top news sites and partner outlets. To explore the digital version of the campaign, click here.
In honor of National Safety Month this June, Mediaplanet is enlisting Avery Products Corporation, among others, including the National Safety Council and the Occupational Safety and Health Administration, to foster wider awareness about the importance of onsite chemical safety, through proper labeling and better workplace communication.
Avery Products Corporation has a strong focus on industrial labeling, providing safe and effective labels that are both water and tear resistant. Avery's industrial products ensure that worksites have access to labels that can stand the conditions of tough working environments.
About Avery Products Corporation
Avery Products Corporation is one of the world's leading manufacturers of printable labels, name badges, business cards, dividers and more—and markets products under the well-known Avery® brand. The company offers innovative solutions to make life easier, including free templates to design, customize and print projects. Avery Products Corporation, a division of CCL Industries, is based in Brea, California. For more information about Avery products, visit avery.com.
About Mediaplanet
Mediaplanet is the leading independent publisher of content-marketing campaigns covering a variety of topics and industries. We turn consumer interest into action by providing readers with motivational editorial, pairing it with relevant advertisers and distributing it within top newspapers and online platforms around the world.
Press Contact:
Jamie Bradley
Jamie.bradley(at)mediaplanet(dot)com
646-922-1404