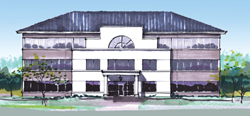 Frederick, MD (PRWEB) June 30, 2016
Clagett Enterprises, Inc. is pleased to announce the construction and sale of the third building at Conley Farm Corporate Center. This is the final building in the Conley Corporate Center and will feature three stories, totaling 32,400 square feet of Class A office space. This property is less than one mile outside of Frederick City and is 1.5 miles from Historic Downtown Frederick. Conley Farm Corporate Center is conveniently located near the highly visible intersection of Interstates I-70 and I-270.
All permits for the construction are in place and construction is scheduled to begin fall of 2016.
Conley Farm Corporate Center is a professional office center. The exterior of the building will be constructed of brick, stucco, metal roof and abundant windows. The interior features lobbies with granite flooring. Condominium units will be individually metered for water and electric and each unit will have a stand-alone HVAC system.
For further information, please contact:
Thomas Clagett at 240-651-3014 or tclagett(at)clagett.com
Ken Breen at 301-639-8499 or email kbreen(at)clagett.com
http://www.clagett.com/conley-farm-corporate-center/
Clagett Enterprises, Inc. is a full service real estate company located in the heart of Frederick, Maryland. Clagett Enterprises has delivered superb service for our clients since 1987. Our licensed real estate agents have extensive experience in commercial real estate sales, development consulting, leasing and residential sales. Clagett Enterprises' management team also provides property management, association management and residential rentals.