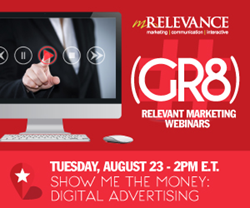 Atlanta, GA (PRWEB) July 01, 2016
mRELEVANCE announces that its next free #GR8 Relevant Marketing webinar, "Show Me the Money: Digital Advertising," will be held on August 23 from 2 to 3 p.m. EST.
Advertising money shouldn't go to waste. Find out how to run effective digital advertising campaigns during the webinar. Tactics for #GR8 digital advertising and return on investment (ROI) will be top of mind during the webinar. Learn how to spend money wisely and set goals for advertising success. The mRELEVANCE team will discuss pay per click, Facebook ads and advertising networks. Get tips from Doug Silk, SEO specialist, and Courtney Rogers, account manager.
There are many factors that go into creating an effective PPC (pay per click) campaign including budget, reach, competition and keywords. Knowing how to bid and how to adjust both keywords and bidding is part art and part science. Doug Silk will discuss how to evaluate:

How effective keywords are
How relevant the ad is to the landing page it sends searchers to
The success of the ad based on click-through rate and other goals (click to call, completed contact forms, clicks for directions, etc.)
How much a company should spend each month
Lots of sites provide Targeted Display Advertising including Facebook, Instagram and various advertising networks. The ability to target behaviorally, geographically and by content is what makes these networks popular and effective. Additionally, ads can run on desktop, smartphone or tablet devices. Target and then retarget those who click on the ad or show interest. Of course, companies need to have the right message. The right message combined with the target market and right platforms equals success and sales.
Learn more about targeting and what it takes to generate awareness, interest, intent and consideration. Doug and Courtney will introduce the consideration funnel.
To prepare for the webinar, brush up on these terms.
Contextual – Ads that are placed on a site because they are a similar subject. For instance, the Google ads that run on Atlanta Real Estate Forum are typically ads for mortgages, home builders, remodeling or other home services.
Placement – A specific group of ad units – as broad as an entire website or as specific as a single ad unit.
Remarketing – Visit a website to buy a product – whether it is Target or a builder's site - and then voila, an ad for that products pops up everywhere.
Similar Audiences – For instance, if the audience is a 55-plus buyer, look at sites where that audience is likely to go – AARP, travel sites, retirement sites, etc.
In-Market Audiences – Ads that appear on sites in a local market.
Interest – Active lifestyle, fitness, dog parks, wine, beer, etc.
Affinity - Typically mixing interest segments along with ads that relate to those interests.
Demographic – This includes age, social class and gender.
Topic – What is being sold? Chocolate, wine, services, new homes, rentals, etc.
Geographic – There are lots of options - large, small, zoned, fenced, zip code targeted.
Language – If selling to multicultural buyers, run ads in relevant languages.
Relevant Marketing Webinars are free and open to business owners and marketing professionals who are looking to gain knowledge on the hottest topics, issues and trends to enhance their marketing efforts. To register for this and future webinars, visit http://www.MarketingRELEVANCE.com/webinars. Be sure to use the hashtag #GR8mRELWebinars when promoting online.
Remaining 2016 Relevant Marketing webinar dates and topics are listed below:
September 20 — Content is King in the SEO World
October 18 — Puzzle Building: Marketing Goal Setting
About Marketing RELEVANCE: mRELEVANCE, LLC creates relevant marketing and communications that reach audiences with focused and strategic messages. Through technology and creative content, messages are delivered to target markets to encourage customer action and interaction.
With offices in Atlanta and Chicago, mRELEVANCE can connect your company with buyers and build relevant relationships nationwide. For more information, visit http://www.MarketingRELEVANCE.com, Like us on Facebook at http://www.Facebook.com/mRELEVANCE, Follow us on Twitter at @mRELEVANCE or call 770-383-3360 or 847-259-7312.