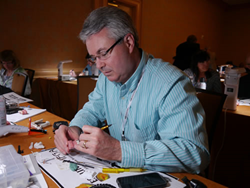 Cortland, OH (PRWEB) June 30, 2016
Dr. Joseph D. Bedich, trusted dentist in Cortland, OH now accepts new patients from Cortland for dental implants, with or without a referral. Dr. Bedich uses advanced techniques to both place and restore implants, so patients can conveniently receive complete care at the same facility.
When a person loses a tooth to disease, damage or trauma, the gums gradually heal over the empty socket, but the gap in the smile remains. This can be a source of embarrassment if it is a highly visible location, but there are other effects that cause problems no matter where the loss occurs. The jaw bone depends on the chewing motions creating pressure through the root and stimulating healthy density. Without this activity, the bone deteriorates and the structure of the face begins to shrink. In some cases, dentures or bridges may be the right option, Dr. Bedich often recommends that his patients consider the benefits of dental implants.
Dental implants include titanium posts that fuse with the bone and mimic all of the functions of the original tooth root. Implants can be used to replace just one tooth, or multiple missing teeth. Creating a single crown that fits into an empty space precisely and matches the rest of the smile is an important part of the replacement process, as well. Dr. Bedich uses CEREC® technology to create crowns using three-dimensional digital imaging software. They are manufactured from durable, natural-looking ceramic, and are ready to be used the same day.
People in the Cortland, OH, area who are missing teeth are encouraged to call Dr. Bedich at (330) 615-1598 to learn if they are candidates for implants. Dr. Bedich includes more information about the services he offers at his practice on his website at http://www.adazzlingsmile.com.
About the Doctor
Dr. Joseph D. Bedich is a general dentist offering personalized dental care to patients in Cortland, OH. Dr. Bedich understands the importance of learning the most cutting-edge techniques, which is why he has taken over 2,000 hours of continuing education in a wide variety of services including sedation dentistry, cosmetic dentistry including CEREC® crowns and veneers, bridges and dentures, non-invasive treatment for receding gums, Botox® for pain management and sleep apnea solutions. To learn more about Dr. Bedich or the services he offers, visit his website at http://www.adazzlingsmile.com or call his office at (330) 615-1598 to schedule an appointment.