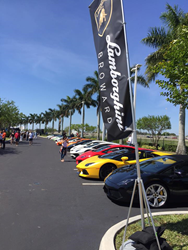 Fort Lauderdale & Davie, FL (PRWEB) July 01, 2016
Warren Henry Auto Group, South Florida's premier luxury auto group, hosts a monthly Supercar Saturdays Florida event at Lamborghini Broward on July 9th from 10:00am-1:00pm.
About SCS
Supercar Saturdays Florida is a monthly auto enthusiast gathering that showcases a curated automotive collection that is presented and brought together by Lamborghini Broward. With the new and recently opened Lamborghini Broward Dealership serving as a backdrop, Supercar Saturdays Florida creates a new and modern event for the auto enthusiast and collector alike.
The carefully curated auto collective approach of Supercar Saturdays Florida has the objective to create the ideal event which combines a casual and friendly environment that allows attending automotive fans to spectate and interact within the event.
The monthly series of events will be sure to draw large crowds as the event will be free and open to the public. A few cars that have been spotted at the event include 1967 Toyota 2000 GT, Mansory Bugatti Veyron, Lamborghini 50th Anniversary Aventador, Ferrari LaFerrari, and Ferrari F60 America one of only 10 produced.
About the Teen photo contest
As a way to support the local community, Supercar Saturdays have invited teens from all over to participate in a Teen Photography Contest at the July 9th event. This encourage kids to come out and showcase their photography skills as well as their love for supercars. Lamborghini Broward is proud to participate in activities such as these, where we encourage teens to be recognized by the community for their creativity and exceptional work.
Lamborghini Broward is located at 4645 Volunteer Road (I-75 and Griffin Road) in Davie, FL. The state-of-the-art authorized factory facility features a full suite of new and pre-owned exotic vehicles and an experienced team of professionals and master technicians. For more information, please call (888)201-1791 or visit http://www.lamborghinibroward.com.
About Warren Henry Auto Group
Celebrating their 40th anniversary this year, Warren Henry Auto Group is headquartered in Miami, Florida with seven North and South Florida franchises including Audi Gainesville, Warren Henry Infiniti, Warren Henry Jaguar, Land Rover North Dade, Land Rover South Dade, Lamborghini Broward and Warren Henry Pre-Owned. Warren Henry Auto Group's corporate office is located at 20860 NW 2nd Avenue (Hwy. 441) in Miami. For more information, call 888-856-3113 or visit http://www.warrenhenryauto.com.