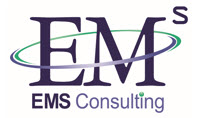 Your Salesforce Experts
Tampa, Florida (PRWEB) July 05, 2016
Based in Tampa, Florida, EMS Consulting recently received national recertification across the US as Women's Business Enterprise by the Women's Business Development Council of Florida. EMS is proud of this recognition, and continually includes women-owned businesses among our vendors.  
EMS Consulting is your Salesforce expert. You simply will not find more comprehensive training and implementation of Salesforce throughout your entire business. EMS will show you step by step how to navigate and utilize this streamlined Salesforce software until you are conversant enough to teach it yourself.
EMS Consulting offers our clients only the most superior products and services. We stay ahead of the curve by researching the latest technological advances to keep your business on the cutting edge. With this in mind, EMS Consulting is pleased to introduce our all-new website. Streamlined and user-friendly, this new design will help you quickly navigate all our business products, services, latest news, and contact information. Join EMS Consulting in our newest chapter at http://www.consultems.com.   
EMS Consulting knows that a business is only as strong as its relationships with clients. EMS prides itself on superior relations with all our clientele, forming partnerships with our trusted experts. EMS is designed to maximize the productivity of your business in all aspects across the board. Whether you are in health care, education, or the private sector, small business or large, EMS Consulting offers you next-level productivity and efficiency. Discover the superior advantage with EMS Consulting.