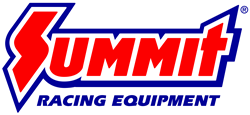 Tallmadge, OH (PRWEB) July 01, 2016
Summit Racing now offers Hardcore Horsepower 438 Ford Parts Combos. The combos are based on Hardcore Horsepower's 438 cubic inch, 14:1 compression small block Ford that makes 735 peak horsepower and 621 lbs./ft. peak torque. Rread about the build at Summit Racing's OnAllCylinders blog.
Short Block Combo
The short block is based on a Dart SHP iron block, a 4.100 inch stroke Scat forged steel crank and 6.200 inch H-beam rods, and JE forged dome pistons with Total Seal rings. Other parts include Clevite bearings, a Cloyes timing set, and an ATI Super Damper balancer.
Oiling System Combo
Hardcore Horsepower selected a Milodon Drag Race oil pan and windage tray for the 438. The pan is designed to fit the common Fox-body chassis. The oil pump is a Melling high volume unit.
Valvetrain and Induction Combo
Hardcore Horsepower went with a pair of Trick Flow High Port® 240 aluminum cylinder heads, designed for large cubic inch engines like the 438. Induction is handled by an Trick Flow R-Series® Intake Manifold topped with a Trick Flow Track Heat® Pro carburetor.
Ignition and Electrical Combo
The 438's ignition system consists of an MSD Billet distributor and Flying Magnet crank trigger. Powermaster supplied the 100 amp alternator and XS Torque starter.
Fasteners and Gaskets Combo
Hardcore went with the good stuff from Fel-Pro and ARP to keep the fluids and compression inside the 438 Ford, where they belong.
Completer Combo
This combo includes a Mezeire electric water pump and flexplate, Autolite XP spark plugs, Joe Gibbs Driven motor oil, Pioneer crank keys, and VHT Ford Light Blue engine paint.
Summit Racing Equipment
http://www.summitracing.com
1-800-230-3030