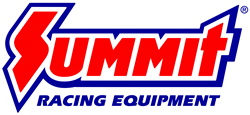 Tallmadge, OH (PRWEB) July 05, 2016
Summit Racing now carries Be Cool Electric Fans. Be Cool fans come in a wide range of sizes and airflow rates, and in single- or dual-fan configurations with a fully sealed motor that carries a lifetime warranty.
Be Cool electric fans are available with a choice of a straight blade (maximum cooling) or curved blade (quietest operation) fan. Be Cool Electric Fans are reversible, which means they can be installed in either a pusher or puller orientation—perfect if there are space concerns in a cramped engine bay.
Some Be Cool fans are available with a choice of motors:
The Super Duty Motor is available on 16 inch diameter fans. It produces 3,140 cubic feet of airflow per minute (cfm) when mounted against a radiator core. The Super Duty fan motor requires a high-amp alternator and Be Cool's 40-amp waterproof relay for peak performance and durability.
The High-Torque Motor provides maximum fan output and reduced-depth mounting. It also requires a high-amp alternator and Be Cool's 40-amp waterproof relay.
The Medium Profile Motor provides similar performance to the High-Torque motor, but is smaller for use in smaller engine compartments.
The Thin Line Motor is Be-Cool's smallest. Fans with this motor can be used as a helper fan to enhance the original engine-driven fan's output, an intercooler fan, or an A/C condenser fan.
Here are the Be Cool electric fans that Summit Racing has to offer:
Qualifier Series Fans are well suited to daily drivers, tow rigs, off roaders, and race vehicles. The fans have a high-tech Euro-Black finish.
Aluminator Fans have the same bulletproof qualities of Be Cool's Qualifier Series fans, but have a billet aluminum motor cover for a touch of under-hood bling.
Show and Go Series Fans are for the chrome crowd. The fan cages are chrome plated and, the motor has a polished billet aluminum cover. Select models have a stainless steel shrouds
At the top of Be Cool's fan heap is the Extreme Series. The fans have the billet motor cover, chrome plated cage, and chrome shroud of the Show and Go series, plus a "Extreme" logo etched into the motor cover.
To avoid clearance issues and ensure a precise fit, visit SummitRacing.com for accurate dimensions of each Be Cool electric fan.
Summit Racing Equipment
http://www.SummitRacing.com
1-800-230-3030