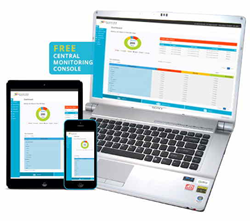 To say that we are excited about the release of NovaBACKUP CMon is an understatement. Whether managing one or thousands of NovaBACKUP installations, our new complimentary application is designed to make monitoring data simple and convenient
Agoura Hills, California (PRWEB) June 30, 2016
NovaStor, an international provider of award winning back up solutions, today announced the release of an all new Central Monitoring Console dubbed "NovaBACKUP CMon". The CMon application provides users of the award winning NovaBACKUP backup and restore software with a way to monitor critical data in real time and stay one step ahead of potential downtime.
Designed and built based on user feedback
The CMon interface was built from the ground up on the feedback of NovaBACKUP users and technology partners. The tool offers a sleek and simple method to analyze and review the status of all NovaBACKUP installations, down to the level of individual backup jobs and files. Whether in the same building, or widely distributed, the status of data is just a click away via any modern web browser.
Free of Charge
As a service to valued users, the CMon is available free of charge to anyone for use with the new NovaBACKUP 18 product line. From a single workstation, to advanced servers running business applications, the CMon makes monitoring easy. A completely customizable dashboard provides the most important statistics to get the immediate status of all connected NovaBACKUP installations and backup data. Designed with flexibility in mind, CMon lets users group clients into groups and conveniently check their status at a glance. By defining who has access to CMon and their role, administrators control who has visibility into client backup jobs. This feature is ideal for a service provider who wants to assign team members responsibility over specific customers or with designated access privileges.
Embracing Managed Services
In a market where IT providers and their customers both increasingly benefit from a managed services model, NovaStor has reacted with an application that caters to a specific need. Technology providers who wish to offer not only software and hardware, but also monitoring and network management services stand to gain with tools that offer deep insight into customer environments like NovaBACKUP CMon. NovaStor partners who offer backup monitoring as part of their services to business, can now quickly run detailed reports as well as setup important alerts and notifications.
"To say that we are excited about the release of NovaBACKUP CMon is an understatement. Whether managing one or thousands of NovaBACKUP installations, our new complimentary application is designed to make monitoring data simple and convenient," said Mike Andrews, Managing Director at NovaStor.
Easy to Get Started
The CMon is completely free, easy to use and operates on minimum system requirements. Interested parties are encouraged to visit the CMon home page, and download the latest version to be installed in their environment. Installation and setup videos walk users through the configuration process. To monitor backup software installations the latest version of NovaBACKUP client software can be downloaded as a trial for your laptop or workstation, as well as file servers, or even business servers running applications like SQL, Exchange, and virtual machines.
Links to additional information
NovaBACKUP CMon Installation (Video)
Setup NovaBACKUP for Use with CMon (Video)
NovaBACKUP 18 Product Release
About NovaStor
NovaStor® (http://www.novastor.com) is an international provider of powerful, affordable, all-inclusive data-protection solutions for physical and virtual environments. NovaStor provides backup & restore solutions to small and medium business (SMB) as well as heterogeneous environments to protect data on both sides of the cloud. NovaStor's SMB solution NovaBACKUP® is rated #1 for businesses requiring local and remote protection of Windows Servers, VMware, Hyper-V and NAS environments with advanced monitoring capability, detailed reporting, and administration from a centralized monitoring console. NovaStor's network backup solution NovaBACKUP DataCenter brings F500 references, scalability, reliability and speed to heterogeneous environments; a single pane of glass designed to reduce administrative effort and lower TCO. NovaStor' Setup Assistance is an industry first where experts relieve clients from the complexity of installation and support. NovaStor is management-owned with over 1,000 partners, and millions of seats distributed. With global headquarters located in Zug, Switzerland and offices in Germany (Hamburg) and the USA (Agoura Hills), NovaStor is also represented in numerous other countries through partnerships.