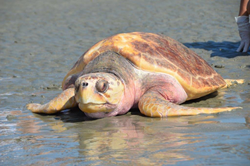 Charleston, S.C. (PRWEB) June 30, 2016
Two sea turtles treated by the South Carolina Aquarium Sea Turtle Rescue Program are again swimming in the Atlantic Ocean. Today Lady, a large female loggerhead, and Forest, a juvenile green sea turtle, were released at the Isle of Palms County Park. Due to traffic and safety concerns ahead of the holiday weekend, the City of Isle of Palms requested details surrounding this release not be sent to the public in advance.
The release was held in partnership with the South Carolina Department of Natural Resources (SCDNR) and the Charleston County Park and Recreation Commission (CCPRC). The Sea Turtle Hospital is currently at capacity with new patients being admitted almost daily this week, requiring these two turtles to be released immediately once medically cleared. Today's release marks 191 sea turtles successfully treated and released by the South Carolina Aquarium Sea Turtle Rescue Program.
For photos of today's release click here.
For video of today's release click here.
About the sea turtles:
Lady:
Lady, an adult female loggerhead sea turtle weighing just 95 pounds, was found last summer debilitated and floating near Lady's Island, South Carolina. Boaters enjoying a day on the water found Lady covered in barnacles and behaving abnormally. Luckily, they called SCDNR, who responded and transported the turtle to the Aquarium's Sea Turtle Hospital. Upon admission, Lady was severely emaciated and lethargic; she was also diagnosed with bilateral cataracts. Initial treatment included a physical exam, fluids, antibiotics and vitamins, while surgery to remove the cataracts in both eyes was postponed until Lady was stronger. Dr. Anne Cook from Animal Eye Care of the Lowcountry donated the surgery, which is the sixth she has performed on a loggerhead sea turtle. Lady successfully recovered from surgery and now sees well enough to actively chase live blue crabs around her tank. She is back to full weight at more than 140 pounds.
Forest:
Forest, a juvenile green sea turtle, was found by a group of girls biking at Forest Beach on Hilton Head Island in April of this year. The girls noticed that Forest was not moving and that there were small spots of blood near the turtle, indicating s/he was wounded. Treatment at admission included fluids, vitamins, antibiotics and blood analysis. The initial physical exam indicated that Forest was in relatively good body condition but was suffering from numerous abrasions and lacerations to the front and rear flippers, consistent with a shark attack. Subsequent exams including radiographs revealed Forest was also suffering from an intestinal impaction. Weeks of treatment, including fluids and an enema, helped clear the impaction. After several months of hands-on care, Forest is ready for release.
What can you do?:
Approaching the release of our 200th rehabilitated sea turtle, the South Carolina Aquarium is proud to announce the commitment of a community challenge grant in support of the Sea Turtle Recovery™ experience. Presented by Dr. Del and Linda Schutte on behalf of the Charleston Institute for Advanced Orthopedics, the Aquarium has secured a challenge grant opportunity for which each dollar raised, up to $100,000 will be matched 1:1. To make a donation visit scaquarium.org/donate.
Slated to open May 2017, Sea Turtle Recovery™ will serve as a living, interactive learning landscape. It will present the remarkable journey from rescue, to rehabilitation, to release that each of our patients experience, establishing the Aquarium as a powerful educational presenter of sea turtle conservation on the East Coast.
How you can help sea turtles:
You can help protect threatened and endangered sea turtles. If you find a sick or injured sea turtle, contact the SCDNR sea turtle hotline at (800) 922-5431.
To read about our patients or track their recovery progress, visit our Sea Turtle Rescue Program blog at scaquarium.org. Follow us on Facebook and Twitter for the latest updates from the hospital, including public sea turtle release details.
For all media inquiries, please contact Kate Dittloff at (843) 579-8660 or kdittloff(at)scaquarium(dot)org.
About the South Carolina Aquarium Sea Turtle Rescue Program:
In partnership with the South Carolina Department of Natural Resources (SCDNR), the South Carolina Aquarium Sea Turtle Rescue Program works to rescue, rehabilitate and release sea turtles that strand along the South Carolina coast. Located in the Aquarium, the Sea Turtle Hospital admits 25 to 35 sea turtles each year. Many of these animals are in critical condition and some are too sick to save.
According to SCDNR, during the past 10 years the average number of sea turtle standings on South Carolina beaches each year is 138. Of these, roughly 10 percent are alive and successfully transported to the Sea Turtle Hospital. To date, the South Carolina Aquarium has successfully rehabilitated and released 191 sea turtles and is currently treating 18 patients. The average cost for each patient's treatment is $35 per day with the average length of stay of nine months.
About the South Carolina Aquarium:
The South Carolina Aquarium features thousands of amazing aquatic animals from river otters and sharks to loggerhead turtles in more than 60 exhibits representing the rich biodiversity of South Carolina from the mountains to the sea. Dedicated to promoting education and conservation, the Aquarium also presents fabulous views of the Charleston Harbor and interactive exhibits and programs for visitors of all ages.
The South Carolina Aquarium is a 501(c)(3) not-for-profit organization and is open daily from 9 a.m. to 5 p.m. (last ticket sold at 4 p.m.) The Aquarium is closed Thanksgiving Day, half day Dec. 24 (open 9 a.m. to 1 p.m.) and Dec. 25. Admission prices are: Toddlers (2 and under) free; Youth (3-12) $17.95; Adults (13+) $24.95. The Aquarium plus the 4-D Theater experience is free for Toddlers, $22.95 for Children, $29.95 for Adults. The 4-D Theater experience only is $6.95 for Children and Adults and free for Members. For more information, call (843) 577-FISH (3474) or visit scaquarium.org.
###