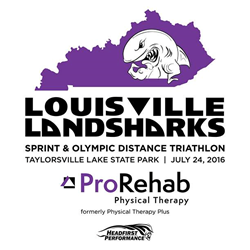 We are proud to serve as the presenting sponsor of this year's ProRehab Louisville Landsharks Triathlon.
Louisville, KY (PRWEB) July 12, 2016
ProRehab Physical Therapy (PRPT) is pleased to announce their sponsorship of the 2016 ProRehab Louisville Landsharks Triathlon on July 24, 2016 at Taylorsville Lake State Park in Taylorsville, Kentucky.
For the second consecutive year, PRPT staff will be present at the race to answer questions about injury prevention, training, shoe fit, exercise and physical therapy services, as well as providing stretching to participants. Throughout the course of the year, ProRehab Physical Therapy supports the Louisville Landsharks by hosting various events to promote healthy training and injury prevention.
"We are proud to serve as the presenting sponsor of this year's ProRehab Louisville Landsharks Triathlon," said Eric McElroy, DPT, OCS, CSCS, ProRehab Physical Therapy Partner and Chenoweth Clinic Director. "We had a great time getting to know some of our local triathletes and we were proud of the successful, injury free event last year. We look forward to more of the same this year and to working with the Landsharks to keep Louisville's triathletes healthy and injury free in the future."
The Louisville Landsharks Triathlon is open to Landshark members and non-members. For more information on the Louisville Landsharks triathlon, or to learn how to join the Landsharks, please visit http://louisvillelandsharks.wildapricot.org. To register for this year's Triathlon online, please visit http://www.headfirstperformance.com/FeaturedEvents/TabId/357/ArtMID/1016/ArticleID/7363/2016-Pro-Rehab-Louisville-Landshark-Triathlon.aspx before July 20, 2016.
To learn more about the services provided at ProRehab Physical Therapy, like sports physical therapy or Louisville's only AlterG® Anti-Gravity Treadmill® available to the public, please visit http://www.prorehablou.com or call 502.749.6950.
About ProRehab Louisville:
Founded in 1999, ProRehab is a locally owned private physical therapy practice with over 15 years of experience as one of the region's preeminent providers of outpatient physical therapy. Our therapists are charged with providing long-lasting outcomes without surgery, medication, or diagnostic imaging to our patients in the Louisville, Evansville, southwest Indiana and western Kentucky areas. ProRehab Louisville's clinicians have a wide range of clinical expertise in manual physical therapy, spine care and rehabilitation, general orthopaedic conditions, sports specific injuries, workplace injuries and much more. 100% of our expert practitioners are either board certified or in the process of completing advanced residency, fellowship, or clinical mentoring programs, allowing them to provide the highest standard of care to our patients. Our friendly, caring therapists take their patients' care personally and are always on standby to offer support. Attuned to the latest evidence-based clinical, service, and compassion research, we combine Clinical Excellence and AmaZing! Customer Service with empathy, compassion, and positivity and incorporate them into our mission of keeping our patients healthy and out of the costly, depersonalized healthcare system. For more information, find ProRehab Louisville at http://www.ProRehabLou.com, on Facebook, or @ProRehabLou on Twitter and Instagram.