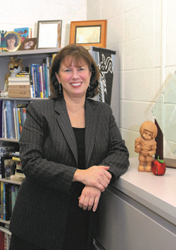 Dr. Gillette is an accomplished scholar who brings a wealth of administrative and educational experience to Seton Hall.
South Orange, N.J. (PRWEB) July 05, 2016
Seton Hall University is pleased to announce the appointment of Dr. Maureen Gillette as the new Dean of the College of Education and Human Services, effective August 1, 2016. Dr. Gillette is an accomplished scholar who brings a wealth of administrative and educational experience to Seton Hall.
Dr. Gillette has served as the Dean of the College of Education at Northeastern Illinois University since 2005. Her tenure reflects her commitment to developing a diverse and highly effective teacher workforce, teacher education, and multiculturalism. She has extensive National Council for Accreditation of Teacher Education (NCATE) accreditation experience and serves as Chair of their Board of Examiners. Prior to joining Northeastern Illinois University, Dr. Gillette was an associate dean at William Paterson University in New Jersey from 1999 through 2005. Her responsibilities included NCATE coordination, recruitment and retention of students, community college articulation and development of partnerships with P-12 schools.
Dr. Gillette began her career as a classroom teacher, having spent thirteen years teaching a variety of elementary and middle school grade levels before starting her career as a teacher educator at The College of St. Rose in Albany, New York, where she was Chair of the Department of Teacher Education. In this role, she led a department of approximately 900 undergraduate and graduate elementary and secondary majors, as well as 12 full-time faculty members.
Throughout her career, Dr. Gillette has been an advocate for values-based education. She has published more than 20 refereed journal articles and book chapters and has presented more than 35 scholarly papers. She is co-author of Learning to Teach Everyone's Children: Equity, Empowerment, and Education that is Multicultural. Dr. Gillette has also been engaged in designing, implementing, and evaluating programs that recruit, prepare, and graduate first-generation, community-based teacher candidates for urban schools. While at William Paterson University, she developed Paterson Teachers for Tomorrow and at Northeastern Illinois University she has led the Grow Your Own Teachers program.
Dr. Gillette earned her Ph.D. from the University of Wisconsin – Madison in the area of curriculum and instruction, with a minor in educational administration. She also earned her MS Ed. and BS Ed. from Northern Illinois University. She holds a certificate in Management and Leadership in Higher Education from the Harvard University Graduate School of Education. Dr. Gillette has also earned certificates in Principles and Techniques of Fundraising from Indiana University's Lilly School of Philanthropy and an ACE National Women's Leadership Forum certificate from the American Council on Education. In addition, in 2015 she was named one of the 30 most influential Deans of education in the United States by Mometrix Test Preparation.
ABOUT SETON HALL UNIVERSITY
One of the country's leading Catholic universities, Seton Hall University has been developing students in mind, heart and spirit since 1856. Home to nearly 10,000 undergraduate and graduate students and offering more than 90 rigorous majors, Seton Hall's academic excellence has been singled out for distinction by The Princeton Review, U.S. News & World Report and Bloomberg Businessweek.
Seton Hall, which embraces students of all religions, prepares its graduates to be exemplary servant leaders and global citizens. In recent years, the University has achieved extraordinary success. Since 2009, the University has seen record-breaking undergraduate enrollment growth in addition to an impressive 95-point increase in the average SAT scores of incoming freshmen. In the past decade, Seton Hall students and alumni have been awarded nearly 20 Fulbright Scholarships as well as other prestigious academic honors including a Rhodes Scholar. In the past five years, the University has invested more than $134 million in new campus buildings and renovations. And in 2015, Seton Hall announced plans for a new School of Medicine as well as launched a new College of Communication and the Arts.
A founding member of the new Big East Conference, the Seton Hall Pirates field 14 NCAA Division I varsity sports teams. The University's beautiful main campus is located in suburban South Orange, New Jersey, and is only 14 miles from New York City – offering its students a wealth of employment, internship, cultural and entertainment opportunities. The University's nationally recognized School of Law is prominently located in downtown Newark. For more information, visit http://www.shu.edu.