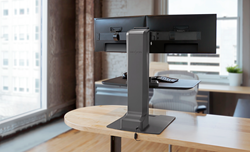 Easton, PA (PRWEB) July 05, 2016
Winston-E is a member of an elite group of products that will be showcased in the August 2016 issue of BUILDINGS Magazine and online at http://www.BUILDINGS.com.
Winners were evaluated by the BUILDINGS editorial staff for innovation and sustainability features that they offer to building owners and facility managers.
Winston-E, the latest ergonomic advancement from Innovative, showcases thoughtful design and robust engineering. The effortless one touch height adjustment makes it even easier to incorporate standing into the workday; the new programmable position feature allows users to set their ideal standing height so the workstation will rise to the perfect position every time.
Because Innovative has always been committed to producing ergonomic monitor mount solutions, Winston-E offers enhanced adjustments so everyone can work in comfort. In addition to the 18" of height adjustment, the monitors feature focal depth adjustment and independent movement to keep the monitors at a comfortable, ergonomic level. The flexible adjustment of the monitors allows for easy screen sharing when needed.
To purchase Winston-E, the 2016 Product Innovations 1st Place Grand Award winner, please contact a representative at 800-524-2744.
About BUILDINGS
BUILDINGS Media serves more than 74,000 commercial building owners and facility managers in North America. Its magazine, newsletters and website provide information that helps subscribers and users make smarter decisions about managing, operating and renovating their facilities.
About Innovative Office Products
Innovative Office Products is an award winning market leader of monitor and tablet mounting solutions designed and manufactured to provide the best in flexibility, space savings and ergonomic benefit. Innovative leads the way in exceptional quality by combining product performance with award winning design. All products are tested to meet or exceed BIFMA standards and are backed by a manufacturer's warranty. Innovative strives to reduce environmental impact through standard design and manufacturing procedures. Innovative assembles products in the U.S.A. at their manufacturing facility in Easton, PA.
For more about Innovative Office Products visit: http://www.lcdarms.com or follow us on Facebook, Twitter, Google+, LinkedIn, and our blog.