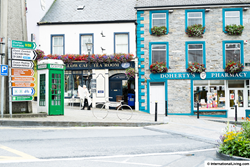 Ireland remains a member of the EU, and an Irish passport provides holders with all the travel and economic benefits of EU membership.
Baltimore, MD (PRWEB) June 30, 2016
Any U.S. citizen visiting Ireland with a round-trip travel ticket automatically gets 90 days to enjoy the green hills, flowered valleys, and rocky shores of Ireland. But for retirees hoping to settle in Ireland for longer than 90 days at a time, a longer-term visa—or an Irish passport—is required.
With the United Kingdom's recent vote to leave the European Union, an Irish passport has instantly become more sought after with UK citizens now looking in great numbers to acquire one. Ireland remains a member of the EU, and an Irish passport provides holders with all the travel and economic benefits of EU membership.
Those benefits are just as desirable for U.S. citizens. Many of the nearly 35 million Americans who claim Irish ancestry could, in fact, be eligible to hold an Irish passport. Both the United States and Ireland allow for dual citizenship, so it's perfectly legal—and can be advantageous—to hold passports from both countries.
With an Irish passport in hand, for instance, an American is no longer restricted by rules that typically limit a non-EU citizen's stay in Europe to 90 days. Somebody traveling on an Irish passport can enjoy the privilege of coming and going freely.
International Living recently outlined the four best ways to extend an Irish stay past the standard 90-day tourist limit and to get an Irish passport, too.
Irish Ancestry
Anyone who was born to an Irish citizen anywhere in the world is entitled to Irish citizenship. Even if both parents were born outside of Ireland, if one grandparent was born there, then claiming citizenship is simple.
And in two circumstances a great-grandchild can apply for Irish citizenship by descent. In both cases, one of the child's parents must be the grandchild of an Irish-born person. In addition, that parent must have been officially registered in the "Foreign Birth Register." This is a list of Irish born abroad who are entitled to citizenship because their births were officially "registered." You can learn how to register from the website of the Irish Department of Foreign Affairs.
Stamp 0
Lacking Irish descent, one of the best options for extending a stay in Ireland is "Stamp 0."
Stamp 0 was introduced in 2011. The Irish National Immigration Service (INIS) describes it as a "low-level immigration permission that allows a person to remain lawfully in Ireland for a specific temporary and limited purpose." Implementation is vague and information is contradictory, but Stamp 0 grants what's called "permission to remain" for a year. Renewal can be applied for toward the end of that year. To qualify, an applicant must show "self-sufficiency," which means €50,000 (around $56,000 at time of writing) per person a year, plus a sizable lump sum (the equivalent of "the price of a dwelling in the State," in the words of the INIS) to cover major, unexpected expenses. Essentially, the amount required is at the INIS's discretion…and it needs to be satisfied the applicant won't cost the Irish government anything. Every applicant is assessed "case by case."
Investors Visa
In 2012, with the economy in tatters, Ireland began offering investor visas. It's now under review, but for the moment, it's still a route to long-term residence. For between €500,000 (around $559,000) and €2 million ($2.23 million) applicants and their families can remain in Ireland for up to five years with the possibility of applying to stay longer.
Marriage
This is the most drastic route to citizenship, but it's possibly more fun than investing or researching the family tree. Applicants must be married for at least three years and have one year of "continuous residence" in Ireland immediately before application. And they must have been living in Ireland for at least two of the four years before the one year of continuous residence.
The InternationalLiving.com report lists other, more detailed considerations for gaining an Irish passport, as well as some highly recommended spots for new Irish citizens to settle in and enjoy the Irish lifestyle. Find the latest International Living report at: How To Get an Irish Passport and Where to Live When You Get There.
Editor's Note: Members of the media have permission to reproduce the article linked above once credit is given to InternationalLiving.com.
For information about InternationalLiving.com content republishing, source material or to book an interview with one of our experts, contact Associate Editor Carol Barron, 772-678-0287 (US), CBarron(at)InternationalLiving(dot)com or visit the Media Center.
For 36 years, InternationalLiving.com has been the leading authority for anyone looking for global retirement or relocation opportunities. Through its monthly magazine and related e-letters, extensive website, podcasts, online bookstore, and events held around the world, InternationalLiving.com provides information and services to help its readers live better, travel farther, have more fun, save more money, and find better business opportunities when they expand their world beyond their own shores. InternationalLiving.com has more than 200 correspondents traveling the globe, investigating the best opportunities for travel, retirement, real estate, and investment.