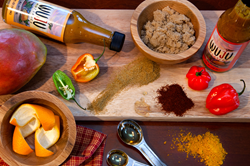 WUJU is so different than every other hot sauce out there – once people try it, they become die-hard fans. And they don't just love the sauce, they fall in love with the success story and honest brand behind it
Philadelphia, PA (PRWEB) June 30, 2016
This week, Kickstarter-backed WUJU Hot Sauce officially announced their entrance into 40 Whole Foods Market locations in Northern California.
This is just another milestone in an amazing Year 1 for WUJU. Since its highly successful Kickstarter launch last July, the startup has sold tens of thousands of bottles of the unique condiment through its ecommerce site, and landed shelf space in independent grocery stores and chains across the country. The company says they have deals in the works that could put them in over 600 new grocery and natural food stores by the end of the summer.
WUJU Founder & CEO, Lawrence WU says, "As such a new brand, we're so fortunate to partner with Whole Foods. This is a great opportunity to prove ourselves, and we'll do everything we can to live up to expectations. I think Northern California is the perfect place to set the stage for our plans to expand to major retailers across the country."
The company attributes its explosive growth largely to viral social media, fueled by customers' connection with its grassroots backstory, and their genuine love for WUJU's addictively unique flavor. The sauce has received rave reviews from foodies & hot sauce lovers across the country – and has consistently sold completely out of stock online.
WUJU's Director of Marketing, David Polinow, says, "The pace of growth has been truly incredible. WUJU is so different than every other hot sauce out there – once people try it, they become die-hard fans. And they don't just love the sauce, they fall in love with the success story and honest brand behind it."
The WUJU Story – "Hot Sauce, Reinvented"
Shortly after graduating college, 24 year old (and then corporate pharmaceutical employee) Larry Wu, perfected the recipe for WUJU in his parent's home kitchen. Larry was motivated by the mission to create a new type of hot sauce which would focus on flavor, rather than just heat like traditional varieties. He wanted to make America's next "coolest condiment" which could go head to head with big names like Sriracha and Cholula.
Larry drained much of his life savings to get the first 1,000 bottles produced. He then gave them all away for free through the website Reddit. People immediately fell in love with the sauce and with the story. This set the stage for launching a Kickstarter campaign last July, which went on to raise over $61,000 in just over a month.
Each bottle features an image of a Sunset and a personal dedication to Larry's dear friend Cody Schuler, who recently passed away from cancer. A portion of WUJU's profits are donated to benefit cancer patients and their families.
You can find more information or order WUJU from their website at https://wujuhotsauce.com
For additional images and media contact information, go to https://wujuhotsauce.com/press