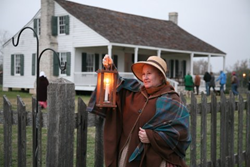 Brenham, TX (PRWEB) June 30, 2016
The historic Christmas traditions of Texas in the 1800s will transport visitors into the past at the Christmas on the Brazos celebration at the Washington on the Brazos State Historic Site – the very spot "Where Texas Became Texas" – on Saturday, December 10, 2016. No-cost and low-cost holiday activities for all ages include period music, craft making, readings, food samplings and sale of artisan gifts. The day culminates in the park's popular Candlelight Christmas event at Barrington Living History Farm, featuring vignettes of Texian frontier festivities with music, musket firing, dancing and a candlelit tour of the farm.
Many holiday activities occur throughout the day and are staggered throughout the park, including:

An Afternoon with Dickens: 1:00 p.m. and 3:00 p.m. (Independence Hall) Staff dressed in period clothing will regale visitors with tales of Olde Time Christmas as told by the great author, Charles Dickens.
Christmas Lore and Traditions: 4:00 p.m. (Independence Hall) History is not only about battles, dates and names but also touches on the special times in peoples' lives, and Christmas is one of those very special times. With this program guests discover how people embraced the holy day in the early Texas.
The Star of the Republic Museum will host "make-and-take" period crafts from 11 a.m. to 3 p.m. (regular admission fees; no charge for the crafts); museum open during regular business hours from 10 a.m. to 5 p.m.
The site's Visitor Center and Washington Emporium Gift Shop will be open from 9:30 a.m. – 7 p.m. and will feature merchandise from Texas artisans, with tastings and samplings of some local fare; family friendly activities, and a selfie photo opportunity with Santa.
Barrington Living History Farm will be open from noon until 3 p.m. and then will reopen at 5 p.m. for its Candlelight Christmas event that starts at 5:30 p.m. and lasts until 9 p.m. (with the last tour leaving at 8 p.m.). Regular admission fees will apply.
Candlelight Christmas at Barrington Farm welcomes its guests into the 1850s and fills their senses with the sights, sounds and smells of yesteryear against the backdrop of a star-filled night sky: smoke and flames from the wood fireplace and bonfire in the field; flickering lanterns and candlelit paths; gunfire and cheers from a band of Texian revelers. The evening includes a tour of the historic home of the last president of the Republic of Texas, Dr. Anson Jones, as interpreters recreate how that family would have enjoyed Christmas, including an 1850s Santa. The slave quarters will also be decorated in typical style for the 1850s. Each tour culminates in a barn dance where visitors are welcome to join in.
The Candlelight Christmas evening event consists of guided tours for small groups that each last approximately an hour, with tours offered at timed intervals starting at 5:30 p.m.; last tour leaves at 8 p.m. Advance reservations are strongly recommended and will be accepted beginning October 1, 2016. Walk-ins are welcome if space permits. Regular admission fees will apply for the park's attractions. Visitors should dress appropriately for the weather and uneven walking surfaces since the event will take place throughout the farm.
Christmas on the Brazos and Candlelight Christmas will be held Saturday, December 10, 2016, at Washington on the Brazos State Historical Park, located at 23400 Park Road 12, Washington, TX, 77880—approximately halfway between Houston and Austin, near Brenham and Navasota, off of State Hwy. 105. From Hwy. 105, follow either FM 912 or FM 1155 to Park Road 12. Visitors are welcome to bring food and drink into the park, but no glass bottles or alcoholic beverages are allowed. As always, there are no fees for parking.
Leashed pets are allowed in park, but are NOT allowed onto farm site or inside buildings. Sites are accessible for the mobility impaired. The park grounds open at 8 a.m. and close at 10 p.m., after the evening event.
This Christmas event is sponsored by TPWD, Star of the Republic Museum/Blinn College and Washington on the Brazos State Park Association. For more information or to make reservations, contact (936) 878-2214 ext. 246 or barrington.farm(at)tpwd.texas.gov.
MEDIA CONTACT: Jeanne Albrecht
Sellmark
210-392-9047
jca(at)jeannebiz.com