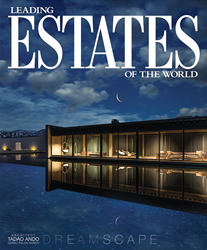 Why does the eye see a thing more clearly in dreams than the imagination when awake? —Leonardo da Vinci
Santa Fe, New Mexico (PRWEB) August 11, 2016
The new Dreamscape Issue of Leading Estates of the World presents a tribute to master and visionary architects, artists and designers, among them Leonardo da Vinci, who painted Lisa del Giocando—known to the world as Mona Lisa—at her Tuscan villa Antinori di Monte Aguglioni as she gazed out over nature's panorama of beauty in the Italian landscape. Architects Tadao Ando, Henry Bowers Thompson, Alexander Gorlin, Kengo Kuma, James Satzinger, and John Van Dyke, among others, translate dreams into reality. Leading Estates of the World showcases the transformative experiences of LE Style in its enticing curated collection of vacation getaways, world-class residential developments, and historic, handcrafted properties of distinction:
Cerro Pelon Ranch, encompassing more than 20,000 acres (32 square miles) and one of the largest properties in Santa Fe County, is home to the iconic western movie town originally built for the film Silverado.
Tommy Hilfiger's duplex Dome Penthouse estate, commanding magnificent Central Park and 5th Avenue views atop the iconic Plaza, is among the most architecturally significant homes in New York City.
$50,000,000 Three Ponds Farm reigns as one of Long Island's quintessential Hamptons estates.
Leading Estates of the World added new market leaders to The Estates Club, distinguished colleagues in preeminent locations around the globe. List | Sotheby's International Realty in Tokyo, Japan, and Prestige Group in Bangalore, India, are both featured in The Dreamscape Issue.
More than $800,000,000 USD in properties presented in The Renaissance Issue of Leading Estates of the World have sold, including Joan Rivers' Manhattan Penthouse and the iconic W.T. Waggoner Ranch in Texas, the latter called "the deal of the century" by The Land Report. With a legacy of 47+ years and an archive of over 100 issues, Leading Estates of the World is the original publication showcasing the most extraordinary, preeminent estate properties on earth.