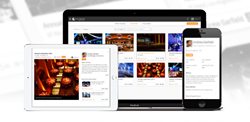 Essentially, the EventForte Creative Showcase Platform empowers event planners to connect with one another as part of a large, online community.
(PRWEB) July 01, 2016
If you want to get recognized as an event planner, how would you be able to expand your online presence? While there are many websites and apps that promote events, there are hardly any that highlight the event planners who brought them to life.
This is where EventForte's Creative Showcase comes in, a platform aimed at showcasing and connecting the event planner community.
"A primary feature of the platform is to enable event planners to showcase a portfolio of their work, including past events, complete with photos, images and 3D renderings of events," said Ankit Gupta, President of EventForte, Inc. "Other people would be able to search and view these portfolios from any major search engine. Essentially, the platform empowers event planners to connect with one another as part of a large, online community."
Another feature in the preview is an events feed, which collates and ranks a list of the most popular nearby events in real time, and filters them based on user preferences and interests. The events feed is a great way for visitors to learn more about what is trending in their area, and connect with the event planners who make them happen.
The platform is currently available for access on an invite-only basis. The company is working closely with partners on refining the user experience and features, and is expected to announce a public launch in August 2016.
For more information about EventForte and their technologies, visit http://www.eventforte.com.
ABOUT EVENTFORTE, INC.
EventForte, Inc. offers a cloud-based event management platform with integrated business intelligence tools, with a mission to revolutionize the event management industry through integration of modern big data and data science methods.
The company has offices in San Jose, CA and Los Angeles, CA.