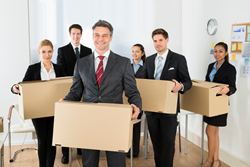 We are dedicated to our focused mission and welcome the change of perspective that moving brings...H. Stephen Bailey, IARFC Chairman
Middletown, OH (PRWEB) July 01, 2016
"We have sorted through many years of memories and stories from almost two decades in the process of moving to our new location," says IARFC Operations Manager, Charlotte Isbell. "Our goal is to be up and running with minimal disruption in our day-to-day operations quickly."
The IARFC stays true to its mission… to foster and enhance the growth of its organization for the benefit of members and the clients they serve by providing a continuing source of information, education and networking. The Association will strengthen the financial services profession through adherence to and promotion of ethical behavior by members and an emphasis on continuing professional education.
"Our IARFC team can better serve the membership and ultimately the consumers from our new place of work," relates IARFC Chairman H. Stephen Bailey. "We are dedicated to our focused mission and welcome the change of perspective that moving brings."
The new street address is: 1046 Summit Drive, Middletown, OH 45042. Mailing to the PO Box will not change: P.O. Box 506, Middletown, OH 45042.