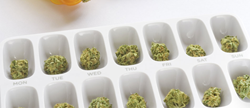 I think we can all appreciate that merging the recreational and medical may present some challenges, but we feel it's a step in the right direction
Tacoma, WA (PRWEB) July 05, 2016
Clear Choice Cannabis, a popular recreational cannabis dispensary in Tacoma recognized for its commitment to providing the highest quality cannabis to patients and consumers, expresses support for the implementation of the Cannabis Patient Protection Act — also known as SB 5052.
Clear Choice Cannabis believes the new law, while imperfect, is a step in the right direction and that legislators will work proactively to respond to issues and concerns expressed by the medical marijuana community.
"I think we can all appreciate that merging the recreational and medical may present some challenges, but we feel it's a step in the right direction," said Adam Schmidt, co-founder of Clear Choice Cannabis. "Over time, with the commitment of the Governor and state legislators, we feel confident any kinks that need to be worked out, will be. The medical cannabis market will evolve into what it should be for the people of Washington State."
Schmidt believes despite some challenges, overall the changes are a positive. He added, "Prices are coming down; in some cases below what the medical industry was providing. The taxes being collected are helping Washington State rebuild important programs in local communities. And, the people of Washington State — by and large — have better and safer access to Cannabis whether it be for recreational or medical use."
After the state legalized recreational adult-use, legislators recognized the need to reconcile the medical and recreational programs. State legislators passed the Cannabis Patient Protection Act (SB 5052) to align Washington State's medical marijuana program with the recreational program, while providing additional protections to consumers.
Gov. Inslee signed Washington State's Cannabis Patient Protection Act into law on April 24, 2015.
Specifically, SB 5052 codifies a regulatory structure for medical marijuana which includes merging it with the recreational program and shifting oversight from the Department of Health to the Washington State Liquor and Cannabis Board. Additionally, the tax code has been revised and additional consumer protections have been put into place.
Not all constituents were excited by the new law. Several groups including the Americans for Safe Access (ASA) actively lobbied to pass an alternate bill, House Bill 2058. ASA contended that SB 5052 created restrictions that would adversely affect patients and dispensaries. They argued SB 5052 would have ensured that licensing and oversight would occur within a dedicated framework designed specifically to protect qualifying patients.
Clear Choice Cannabis explains how implementation of the law can affect patients, consumers and businesses on its website.
About Clear Choice Cannabis:
Clear Choice Cannabis is a compliant adult-use recreational cannabis dispensary offering consumers and patients local, pre-tested, clean and effective Cannabis flowers, oils, derivatives, extracts, topicals and fantastic edibles. Having been personally helped by medical cannabis and inspired by a desire to help people have access to alternative forms of medicine, partners Adam Schmidt and Shawn Sortland founded Clear Choice Cannabis in 2014.