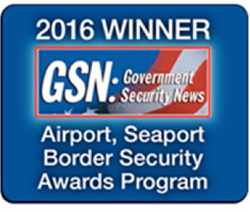 Washington, DC (PRWEB) July 01, 2016
Securiport, a global leader in intelligent immigration controls and aviation solutions announced today that it has received the award for Best Biometric Identification/Authentication Solution as part of the Government Security News (GSN) Airport Seaport Border Security Awards Program. The 2016 Program is in its 7th year of recognizing the top leaders in new technologies and innovative security strategies.
Securiport's Integrated Immigration Control System, a comprehensive security product, consists of several subsystems that provide optimal security and control. They include advanced multi-modal biometric identification, intelligent data analysis, training, data security, and real-time checks against Interpol Databases to help identify persons of interest. Securiport's IICS allows authorities to create and maintain Wanted-Persons Records, which include demographic and biometric features. Data can be imported from any government database, and real-time identification checks are performed on every passenger. The Securiport system then alerts immigration and security officials on possible watch-list hits by issuing a veiled alarm.
"Our mission at Securiport is to develop innovative solutions that will help aviation security authorities and border management agencies to leverage the latest safety technologies to secure borders," said Securiport's COO Dr. Atilla Freska. "To be recognized as a cutting edge leader in a highly-regarded industry publication like GSN is a true honor."
GSN: Government Security News serves a BPA-audited circulation of 35,000 qualified recipients in the fields of physical, IT and homeland security. This audience includes federal, state and local officials, as well as integrators, contractors and suppliers who are similarly involved in homeland security.
Securiport was also named the winner for the best biometric identification system for border security in the 2015 Homeland Security Awards, specifically for their automated, multi-modal, biometric recognition fingerprint identification. As the terrorism and refugee crises continue abroad and at home, Securiport is developing new and better systems to remain at the forefront of today's most critical security demands.
About Securiport
Securiport LLC is a global leader in the design and implementation of passenger biometric recognition, immigration processing, and intelligent information management and reporting software systems. With headquarters in Washington, DC, USA, Securiport partners with governments around the world. Securiport's Civil Aviation and Immigration Security Systems, a comprehensive security product that performs secure biometric recognition of travelers at immigration posts, provides proprietary intelligent information for the identification of potential security risks, criminal activity, and disease prevention based on the comparison and multidimensional analysis of the biometric data and traveler information collected during immigration processing. Learn more at http://www.Securiport.com