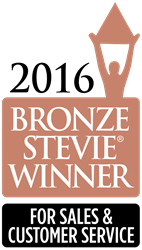 Clearwater, FL (PRWEB) July 01, 2016
TOPS Software was named the winner of the Bronze Stevie Award in the 'Customer Service Department of the Year - Computer Software - Less Than 100 Employees' category in the 14th annual American Business Awards.
The American Business Awards are the nation's premier business awards program. All organizations operating in the U.S.A. are eligible to submit nominations – public and private, for-profit and non-profit, large and small.
Nicknamed the Stevies for the Greek word meaning "crowned," this year's awards were presented at a gala ceremony at the Marriott Marquis Hotel in New York on Monday, June 20th. More than 3,400 nominations from organizations of all sizes and in virtually every industry were submitted this year for consideration.
TOPS Software's nomination for the 2016 awards was titled "Aggressive Customer Service Plan Transforms 30 Year Old Company". The nomination submission focused on the challenges the TOPS support team faced in 2015, with technological upheaval and increased support demand.
More than 250 professionals worldwide participated in the judging process to select this year's Stevie Award winners. The judges complemented TOPS' support team on returning value to customers through strong operational and execution skills.
Said one judge, "TOPS Software had a great improvement in customer satisfaction following its comprehensive redesign of its strategy and listening and acting upon customer feedback. The figures are quite impressive, and indicate that the improvements likely have, or will, become a competitive advantage for TOPS in the future."
Details about The American Business Awards and the list of 2016 Stevie winners are available at http://www.StevieAwards.com/ABA.
ABOUT TOPS SOFTWARE
------------------------------------
TOPS Software helps community association management professionals save time and effort in managing condominiums and homeowners associations. TOPS technology empowers management companies to focus on growing their business and delighting their clients while reducing their labor costs. One management company was able to raise the number of communities in the portfolio of each of their managers from 8 to 12 by implementing TOPS. That's a 50% gain in efficiency. Learn more about TOPS at http://www.topssoft.com.
ABOUT THE STEVIE AWARDS
-----------------------------------------
Stevie Awards are conferred in seven programs: the Asia-Pacific Stevie Awards, the German Stevie Awards, The American Business Awards, The International Business Awards, the Stevie Awards for Women in Business, the Stevie Awards for Great Employers, and the Stevie Awards for Sales & Customer Service. Stevie Awards competitions receive more than 10,000 entries each year from organizations in more than 60 nations. Honoring organizations of all types and sizes and the people behind them, the Stevies recognize outstanding performances in the workplace worldwide. Learn more about the Stevie Awards at http://www.StevieAwards.com.