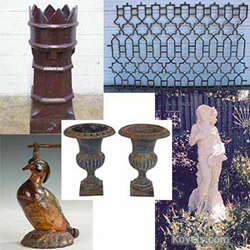 Cleveland, Ohio (PRWEB) August 11, 2016
Whether a new or seasoned collector, an avid gardener, or someone who wants to add a quirky element to the patio or porch, well-worn fountains, fences, birdbaths, and benches add color, texture and fun. Garden antiques are blooming and Kovels' experts have five tips on how to decorate outdoors on a budget.
1. Urns and jardinières are elegant and useful for flowers. Most today are plastic or resin, but antique examples can be found in stone, terra cotta, lead, cast iron (old) or aluminum (1960s). Large or small, simple or bold, classical or clean midcentury modern, buy what you like, because this is not the place for matchy-matchy. A large pair of classical style cast iron urns with squared handles can be sell for $3,500, but a smaller 30-inch pair brought $400 and a terra cotta planter with relief English roses can be had for $65.
2. Statues are available in a variety of materials like stone, cement, painted cast iron or marble. Whether it's a small cement sleeping rabbit or a large classical Italian or Greek figure, it adds character and architectural interest. A 28-inch cement cupid or a cast stone smiling pig costs about $60; an antique lead putto on a pedestal, $861; and a marble semi-nude woman holding a cornucopia of fruit, $1,216.
3. Tools used for gardening can be used as smaller decorative elements leaned against fences or left on tables. Trowels made of metal from the 1950s, rakes with handmade teeth and branch handles and early 20th century metal buckets and enamelware watering cans sell well. French zinc cans with lots of patina have special charm. Lawn sprinklers are popular too. A 1940s cutout figure of a boy holding a hose sells for about $100 to $150. Other metal sprinklers shaped like squirrels or ducks can bring up to $200. This duck sprinkler sold for $484.
4. Iron fences and trellises are decorative and keep critters at bay. A geometric 45 by 72 inch iron panel just sold for $125, vintage gates can be found for as little as $25, and arbors for $200 to $450. At a recent show, a seller was asking $150 for four tapered trellises with arrows and curled decoration and another offered trellises made of lines and circles for $275 each.
5. Architectural items like tiles, columns and finials can be artfully used. Tin or lead tops of downspouts shaped like lions or gargoyles can be found, as can chimney pots shaped like textured cylinders or bishops' hats sell for about $125. And for under $10, you can find glass telegraph insulators to add to a rock garden or make an antique bottle tree. The example pictured sold for $125.
About Kovels.com
Kovels.com, created by Terry Kovel and Kim Kovel, provides collectors and researchers with up-to-date and accurate information on antiques and collectibles. The company was founded in 1953 by Terry Kovel and her late husband, Ralph. Since then, the Kovels have written some of America's most popular books and articles about antiques, including the best-selling Kovels' Antiques and Collectibles Price Guide 2016. The website, Kovels.com, online since 1998, offers more than a million free prices, and includes a free weekly email, "Kovels Komments." It gives readers a bird's-eye view of the market through the latest news, auction reports, a Marks Dictionary, readers' questions and answers and much more.
Contact Information:
Liz Lillis
216.752.2252
Pr(at)kovels(dot)com