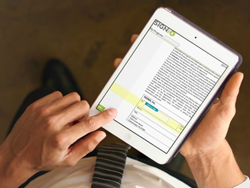 Our Independent E-Signatures™ have always met European standards, and we're happy to remain compliant as the EU transitions to a single digital market
CHATTANOOGA, Tenn. (PRWEB) July 01, 2016
SIGNiX, the leading provider of cloud-based Independent E-Signature™ solutions, has confirmed that its e-signature technology is already compliant with the European Union's new standards for Advanced Electronic Signatures issued under its Electronic Identification and Authentication Services (eIDAS) Regulation.
Under eIDAS, Advanced Electronic Signatures must uniquely identify and authenticate the signer of a document via a certificate authority (an organization that is trusted to sign digital certificates used to identify and authenticate an e-signer). The process must also timestamp the signature and tamper-seal the document.
SIGNiX's Independent E-Signature™ technology—which are true digital signatures (a specific type of electronic signature) using public key infrastructure and certificate authorities—is already compliant with the EU's new rules. SIGNiX's comprehensive audit trails and tamper-evident technology also meet eIDAS standards.
"The difference between an Advanced Electronic Signature, or digital signature, and a simple electronic signature is drastic. And as we've seen with the eIDAS rule, which designates Advanced Electronic Signatures as meeting more stringent requirements, that difference matters to companies around the world—especially those with a European footprint," said Jay Jumper, CEO of SIGNiX. "Our Independent E-Signatures™ have always met European standards, and we're happy to remain compliant as the EU transitions to a single digital market. Ultimately, this will make e-signatures safer and easier to use."
The EU's eIDAS regulation was adopted in 2014. Its trust services rules, which hold the new guidelines for electronic signatures, go into effect Friday, July 1, 2016.
About SIGNiX: 
SIGNiX, the most trusted name in Independent E-Signatures™, makes signing documents online safe and secure with comprehensive legal evidence permanently embedded in each document to eliminate any dependence upon SIGNiX. The company's cloud-based service uses patented technology to give businesses and organizations the most secure and legally defensible e-signatures available at a fraction of the cost of wet ink signatures. SIGNiX's products help the world's leading companies become more efficient, decrease risk and boost profits. For more information, visit http://www.signix.com. You can also follow SIGNiX on Twitter @signixsolutions, LinkedIn, Facebook and Instagram.