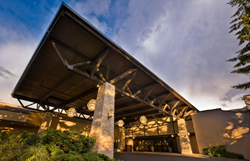 CHICAGO (PRWEB) July 01, 2016
The management of the 459-room Seattle Airport Marriott recently acquired by AWH Partners has been awarded to Spire Hospitality, one of the nation's leading and most respected hotel management companies. The property is poised for success as a historically high performing, upscale offering in the booming SeaTac gateway. Spire Hospitality will oversee extensive renovations, incorporating the new Marriott guestroom package and an atrium reconfiguration, adding meetings and special events space to the existing 15,000 square feet of dynamic space currently offered and finishing off what was a fantastic renovation of public space, lobby and restaurant.
"With this agreement, Spire Hospitality now manages three prominent properties in the Seattle market and one in Portland, Ore., leveraging our resources and showcasing a strong foothold within the Pacific Northwest region," says Bill DeForrest, president & CEO of Spire Hospitality. "Our team is honored and excited to expand our connection with the Marriott brand family on this property located in a thriving market."
Spire Hospitality will operate the property under a franchise agreement with Marriott Hotels (NASDAQ: MAR). With the addition of this hotel, Spire Hospitality now manages 6,293 rooms and nearly 400,000 square feet of meeting space.
A modern respite poised less than a mile from Seattle-Tacoma International Airport and a short block from the Link light rail, the Seattle Airport Marriott offers an upscale escape for business and leisure travelers alike with easy access to Downtown and greater Seattle, the Museum of Flight and the Experience Music Project/Science Fiction Museum. Guestrooms provide spacious comfort, the latest technology and modern amenities, while the award-winning Aqua Terra restaurant features sustainable seafood and locally procured Pacific Northwest ingredients. Guests experience a refreshing change of pace in the beautiful indoor atrium pool and workout in the state-of-the-art fitness center. With 15,000 square feet of existing meeting space, Seattle Airport Marriott hosts a wide-range of meetings and events across 14 rooms featuring high-tech services.
Owned by AWH Partners, LLC, a privately held real estate investment, development and management firm, Spire Hospitality is a leading provider of management services for hotel owners and investors.
For more information on Spire Hospitality, visit http://www.SpireHotels.com or call (847) 498-6650.
ABOUT SPIRE HOSPITALITY
Spire Hospitality, based in Chicago, Ill., is a third-party operator of 6,293 room keys and nearly 400,000 square feet of meeting space in hotels including unique independents and across celebrated brands such as Hilton Hotels & Resorts, (IHG) InterContinental Hotels Group, (HOT) Starwood Hotels & Resorts and (MAR) Marriott International. Spire Hospitality offers expertise in all facets of hospitality management and is committed to preserving, protecting and enhancing the value of hotel real estate. For more information, visit http://www.spirehotels.com.
ABOUT MARRIOTT HOTELS
With more than 500 hotels and resorts in over 50 countries around the world, Marriott Hotels is evolving travel through every aspect of the guest's stay, enabling the next generation to Travel Brilliantly. Boldly transforming itself for mobile and global travelers who blend work and play, Marriott leads the industry with innovations, including the Greatroom lobby and Mobile Guest Services that elevates style & design and technology. All Marriott hotels participate in the award winning Marriott Rewards frequent travel program that allows members to earn hotel points or airline miles for every dollar spent during each stay. For more information, visit http://www.MarriottHotels.com.