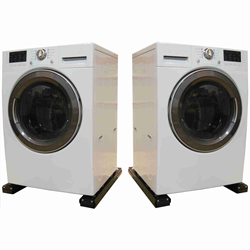 VibrationBloc is an actual isolator suspension system which eliminates transfer of vibration from your front loading washing machine
Palatine, IL (PRWEB) July 06, 2016
The revolutionary VibrationBloc suspension system for front loading washing machine's which eliminates common problems associated with excess vibration, celebrated its 1,500 unit sale today! The VibrationBloc system by Seicon Limited eliminates up to 92% of a front loading washing machine's transferred vibration to floor or surface. For customers, this product makes a huge noise difference in their homes come wash day.
The vibration block solution has been quickly adopted by many customers seeking vibration transfer elimination from their front loading washing machines in their home, townhome, duplex or even apartment. The system has been implemented by homeowners association's condo management companies and even laundromats in an effort to fight vibration transfer from their washing machines.
As detailed on the http://www.VibrationBloc.com website, VibrationBloc beats out other anti-vibration solutions that feature polyurethane, silicone, cork, rubber, neoprene or PVC. VibrationBloc is an actual isolator suspension system which eliminates transfer of vibration from your front loading washing machine to the rest of the houses structure especially during the spin cycle.
"Since opening this online store in October of 2015 consumer demand has been very strong", commented David Bean president of eAccess Solutions, Inc., the VibrationBloc online store's creator. Further he stated, "As this solution becomes more well known, we expect this trend to continue to ramp."
About Seicon Limited
Seicon Limited was organized as a limited liability company in the State of Ohio on October 14, 1998. We are primarily engaged in the development, marketing and licensing of proprietary technology for isolating and controlling vibration and shocks generated by seismic waves and mechanical activity.
For more information contact Seicon Limited http://www.SeiconLimited.com
About eAccess Solutions
Founded in 2001 eAccess is a turnkey global ecommerce provider for high value brand manufacturers. Our award winning ecommerce platform, highly rated customer service and diverse omni channel product marketing capabilities increase direct to consumer product sales and brand visibility.
For more information contact eAccess Solutions, Inc. http://www.eAccess.com