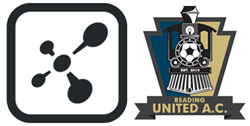 "[...] allows us to combine our sports technology services with their access to training programs and discounts for soccer organizations in Pennsylvania to create a compelling package."
MINNEAPOLIS, Minn. (PRWEB) July 05, 2016
Sport Ngin announced today a partnership with Reading United AC to provide technology services to youth soccer associations in Central and Eastern Pennsylvania. In collaboration, Sport Ngin and Reading United AC have crafted a unique soccer package at a special price for groups that are looking for a complete solution to run their organization. This package includes a sports specific content management system as well as back office management tools.
"Reading United AC is excited to have entered into this partnership with Sport Ngin as a means to highlight soccer and community activities throughout Pennsylvania. The Sport Ngin platform marries cutting edge technology with a unique networking approach, facilitating easy communication between area sporting organizations and fans. Reading United will utilize this network to ensure that families, coaches and community interest groups will always be the first to receive information pertaining to games and sporting charity events throughout the region," said George Gadebusch, Ownership Partner - Reading United AC.
Thousands of sports organizations have chosen Sport Ngin to run their website, tournaments, leagues, online registration and mobile apps. Through these applications, nearly 75,000 soccer teams, clubs and leagues are able to drastically reduce the time they spend on administration and communication, allowing them to focus on spending time with their athletes.
"Partnering with Reading United AC allows us to combine our sports technology services with their access to training programs and discounts for soccer organizations in Pennsylvania to create a compelling package. We are looking forward to reaching out to clubs in the area," said Enterprise Business Development Rep, Jessie Doig.
Club packages are available today for members of the Pennsylvania soccer community by contacting Jessie and her team at Sport Ngin.
# # #
About Sport Ngin:
Helping the world play smarter and live more, Sport Ngin is the leading provider of sport life management web software and mobile applications for youth, amateur, and professional sports. Powering more than 500,000 sports teams, leagues, clubs, and associations, Sport Ngin features a complete suite of easy-to-use tools that help sports organizations manage, connect, and communicate with a diverse range of stakeholders, including athletes, parents, administrators, coaches, referees, scouts, volunteers, fans, journalists, and sponsors. Founded in 2008, Sport Ngin is based in Minneapolis, Minn. For more information, please visit http://www.sportngin.com; like the company on Facebook at facebook.com/sportngin; or follow Sport Ngin on Twitter at @sportngin.
About Reading United AC:
Reading United A.C. is the Greater Reading area's premier minor league soccer team. Led by the ownership group of Berks Professional Sports, Inc. the club was founded in 1995 as the Reading Rage. As the club entered its 15th season a name, logo, and color change was made to better feature the ties to the local and state community as well as the soccer goals of the team and its partners. Now in its twenty-first season, Reading United's commitment to professional player development has produced over fifty players currently on the rosters of professional clubs throughout the United States, Europe and South America. Reading United is the official Premier Development League affiliate of Major League Soccer's Philadelphia Union. For more information about Reading United AC, visit http://www.readingunitedac.com.