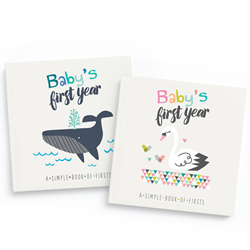 This Baby Memory Book is our best selling product, so it only made sense to include a new girl and new boy design to this product. -Haily Meyers, Creative Director
Scottsdale, AZ (PRWEB) July 05, 2016
Lucy Darling has been actively growing its product assortment since January 2014. The most exciting update to the brand's product mix are two new modern baby book designs, Little Captain and Little Love. Many baby books on the market today require a crafty mom's touch to make them beautiful. This baby journal is unique, in that it only needs photos and a few words added throughout as each page is artfully designed to intentionally take pressure off moms, without sacrificing a pretty aesthetic.
"This Baby Memory Book is our best selling product, so it only made sense to include a new girl and new boy design to this product. I personally love these books as my goal with this product was to create something beautiful and stress-free, that mom's would love and cherish forever." – Haily Meyers, Creative Director
Haily Meyers, like many moms, experienced "baby book guilt" when she was a new mom. She purchased a baby book before her daughter was born and due to the time-intensive process it took to complete the book, she only got half way through before stopping. This is exactly why Haily created, " A Simple Book of Firsts". It's a stunning, guilt-free forever keepsake, that is simple and easy to complete. Life is demanding as a mom, so Haily created a baby journal that allowed moms to capture baby's most darling moments effortlessly and beautifully.
A Simple Book of Firsts, pre-launched on Lucy Darling's website http://www.lucydarling.com on February 18, 2015 and sales have been record-breaking for the company ever since. The books round out the company's product assortment, which now includes monthly/milestone baby stickers, pregnancy belly stickers, nursery art prints, nursery closet dividers and baby memory books.
There are now four memory book designs, Little Artist (floral/girl) and Little Animal Lover (boy/neutral), NEW! Little Captain (Boy/ Nautical), Little Love (Girl/Patterns). The books are 48 pages each and retail for $34.99. Lucy Darling will continue to innovate in the baby space and plans to launch several more products throughout 2016.
About Lucy Darling
Lucy Darling offers baby milestone stickers, art prints for nurseries, nursery closet dividers and baby memory books. They design all of their own product and print locally in the USA. From monthly baby stickers to nursery art prints, pregnancy belly stickers to closet dividers, Lucy Darling is thrilled to offer unique and high-quality products at affordable prices. Visit http://www.lucydarling.com.