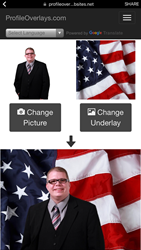 A quick underlay application like this has never been seen before in social media history.
OKLAHOMA CITY, OK (PRWEB) July 01, 2016
ProfileOverlays.com has a history of viral social media overlays. The social media phenomenon of users demonstrating their support of various causes and countries with transparent flag photo overlays, launched a new tool today that allows for the easy creation of profile underlays. A quick underlay application like this has never been seen before in social media history. The application removes solid backgrounds from profile pictures and replaces them with flags and other backgrounds that can be selected on their website.
The free online tool was developed by GLIP.tv and is available at 12:00 p.m. EST on Friday, July 1, 2016 at http://www.profileunderlays.com.
According to Tony Weedn, a US Air Force pilot and part-time CEO of GLIP.tv, this app has been in development for about six months and is a natural extension of the company's profile overlay efforts. "There is no other online application that replaces backgrounds as easy as our underlay software," said Weedn. "Just like our overlay app, this one edits your profile picture without the need for expensive editing software and it does it in just a few seconds."
Since Memorial Day, Weedn and his team have conducted a grassroots campaign designed to blanket social media with the American Flag bringing Americans together in unity for a common cause. This campaign is called "Uniting American Again" with the hashtag #UnitingAmerica. Its goal is to convince 10 percent of the US population (Approximately 33.3 million) or 14% of US-based Facebook users to add an American Flag overlay (and now underlay) to their profile picture through the Independence Day holiday.
"The mission of Uniting America is to simply create unity at a time when our country seems so divided," said Weedn. "We have started the conversation about how our country is stronger if we present a united front and we have plans to continue this conversation well after July 4th."
The American Flag overlay effort was launched one year ago, when US Air Force Captain Chris Lott, while on his ninth combat deployment, noticed all of the rainbow and confederate flag overlays on Facebook. Capt Lott approached his friend, active duty Air Force Major Tony Weedn, and they decided an American Flag overlay was needed to promote unity, as there was so much division with the other overlays on social media. Within 24 hours Weedn assembled a small team of friends who quickly put together a Facebook app and website, and the American flag overlay was born. During this same timeframe, unbeknownst to Lott and Weedn, Mr. Tracy Thompson, the grandson of a Syrian refugee, also approached a developer friend and created an American flag overlay tool as well. Tracy later combined forces in unity with the ProfileOverlays team and today, their website features flag overlays for every nation in the world as well as many custom overlays. Millions of companies, non-profits and people from around the world have used the profileoverlays.com application.
To keep their mission and vision of unity afloat Weedn is looking to monetize the overlay and underlay business by creating custom backgrounds for brands and corporations. "We envision some creative approaches by our corporate and consumer users," said Weedn. "Creative collaboration combined with unity is what the internet and our company is all about."
GLIP.tv is a virtual company with team members located around the US, with Weedn leading the team from wherever he might be that day.