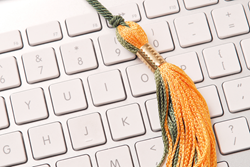 It is well worth doing your homework before enrolling on an online MBA.
London, England (PRWEB UK) 1 July 2016
London School of Marketing has released a blog post, exploring the importance of credibility when it comes to picking an institution with which to study for an online MBA. The post explains that studying online can be a convenient way of achieving a prestigious British qualification without relocating, especially for foreign students. Readers are advised on what to look out for while searching for a course, and a few things to avoid.
Anton Dominique, LSM's chief marketing officer, said: "It is well worth doing your homework before enrolling on an online MBA.
"Finding out how long an institution has been around and what its performance record is like will help to ensure that you sign up with an establishment that cares about your studies and gives you all the guidance you need to get the best possible result."
The post warns students to avoid schools with unqualified or inexperienced staff. It also recommends that readers look into what past alumni say about their experiences, and what they went on to achieve after graduating. LSM also explore the importance of how courses are delivered, the kinds of guarantees offered to students and the reputation of the qualifications on offer.
The full blog post, including a more detailed look at the importance of credibility for providers of online MBAs, can be viewed here. The internationally recognised courses and qualifications offered by the school, including its online MBA, can be viewed at http://www.londonschoolofmarketing.com/our-courses
London School of Marketing delivers accredited marketing and business qualifications, and offers professional courses from recognised professional bodies such as CIM, EduQual and academic qualifications on Marketing, Business, Finance, Law and HRM from Anglia Ruskin University and The University of Northampton. Based in Central London, they are a QAA approved institution. The school also has offices in Sri Lanka, a network of Local Access Points (LAPs), and online programmes of learning.