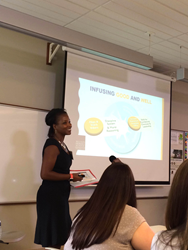 "We looked at some of the school's traditions and values and connected them to new 21st century skills." -MHS Social & Emotional Learning Curriculum Supervisor, Deanna Slamans
HERSHEY, Pa. (PRWEB) July 01, 2016
In partnership with Education First and the Pennsylvania Association of Independent Schools, Milton Hershey School recently hosted a Global Education Symposium. Thought leaders from across the nation discussed strategies for fostering 21st century learners and developing future leaders. Milton Hershey School shared its model for building character and leadership among students through a new social and emotional learning (SEL) initiative.
"When developing our SEL program, we began to connect the old and the new," said MHS Social and Emotional Learning Curriculum Supervisor, Deanna Slamans. "We looked at some of the school's traditions and values and connected them to new 21st century skills."
To make these 21st century connections, the school gave students the opportunity to organize their own leadership conference last fall where they focused on positive traits associated with success—including critical thinking, creativity, collaboration, communication, cultural competence, and character. Milton Hershey School also offers an SEL-focused class designed specifically for various grade levels.
When adding social and emotional learning into the curriculum from grades preK to 12, teachers and houseparents create lessons that are devoted to character-building qualities like commitment, positive spirit, mutual respect and integrity, the school's four sacred values. By aligning SEL lessons to the school's core mission and ensuring the values are added to discipline and merit systems, students are able to take ownership of the values and apply the skills post-graduation.
"We're capitalizing on our story and utilizing structures we already have in place to solidify our purpose," said Tim Wasielewski, MHS Senior Director of Home Life Programs and Student Safety. "We're shaping students to become people of character and equip them for life challenges."
When introducing school-wide, character-building values, Wasielewski and Slamans urged other schools in attendance to create school values that are easy to understand at all grade levels. They also encouraged schools to make their values a key part of the process when formulating behavior statements, completing senior reflections, and making connections to life outside the classroom.
Milton Hershey School's program helps students embrace the tools and mindsets they need to thrive in an increasingly connected global world.
More information about the school's social and emotional learning program can be found at mhskids.org.
# # #
ABOUT MILTON HERSHEY SCHOOL
Milton Hershey School® is one of the world's best private schools, offering a top-notch education and positive home life to children in pre-kindergarten through 12th grade from families of lower income at no charge.