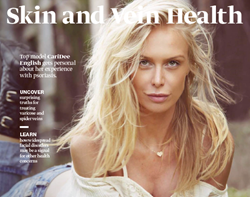 (PRWEB) July 01, 2016
The digital component of the campaign is distributed nationally, through a vast social media strategy and across a network of top news sites and partner outlets. To export the digital version of the campaign, click here. The print version of "Skin and Vein Health" is distributed within the Thursday edition of The Chicago Tribune, with a circulation of approximately 411,000 copies and an estimated readership of 1.2 million.
Former America's Next Top Model winner, CariDee English, graces the cover of the print publication. In an exclusive interview, the model speaks up about her struggle with psoriasis. She explains her decision to disclose her disorder on the show by saying, "I knew it would be something that I could say and that I could inspire many people. I could say, 'Hey, I have psoriasis, but it doesn't have me!'"
Also in the print and digital components of the campaign is a section devoted The Beauty Key Three, which MyChelle Dermaceuticals is the face of. The Beauty Key Three includes Vitamin A, Vitamin C and Zinc Oxide- three important ingredients you want to have in your skincare regimen. MyChelle offers products that include all three! For more information on where to find them, visit http://www.ulta.com/brand/mychelle.
About MyChelle Dermaceuticals
MyChelle is a pioneer in bioactive skin care, transforming the natural beauty industry by being the first to use anti-aging peptides, plant stem cells and clinically proven dermatological ingredients. Founded in 2000 in Colorado, MyChelle places the highest value on clean, conscious and comprehensive skin care products that are ethically sourced and formulated with high-performance ingredients for a lifetime of natural, healthy skin. For more information on MyChelle Dermaceuticals visit http://www.mychelle.com.
About Mediaplanet
Mediaplanet is the leading independent publisher of content-marketing campaigns covering a variety of topics and industries. We turn consumer interest into action by providing readers with motivational editorial, pairing it with relevant advertisers and distributing it within top newspapers and online platforms around the world.