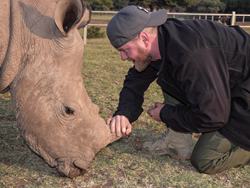 if there were more effective organizations, such as VETPAW, our services would not be needed. Poaching is not just an African problem any longer. It's a global problem and it is serious." - Suzanne Rudham
New York, NY (PRWEB) July 01, 2016
Veterans Empowered to Protect African Wildlife (VETPAW) a U.S non-profit 501(c)3 is pleased to announce they have formed a partnership with Saving the Survivors, an African-based non-profit team of veterinarians.
"We are thrilled to be teaming up with Saving the Survivors, the team of veterinarians responsible for saving poaching survivor, Hope, the white rhino female who was brutally attacked in May 2015, " said Ryan Tate, U.S. Marine and Founder of VETPAW. "Our missions align perfectly and we fully support Saving the Survivors rescues of endangered species and their efforts to create hope from hurt. "
The two organizations formed a partnership, last month, during VETAW's mission to South Africa. The two groups will work in tandem to combat the killing of endangered species. VETPAW who empowers military Veterans to utilize their training and Saving the Survivors who offer medical aid to the fallen animals, form a strong force for animal survival in Africa.
"The only way that we are going to save the species is through collective effort and collaboration right across the world. We, at Saving the Survivors, are proud to be associated with this organization. In an ideal world if there were more effective organizations, such as VETPAW, our services would not be needed. There are doers and there are sayers. We are doers and recognize that virtue in Ryan Tate and his team," said Suzanne Boswell Rudham director of communications, Saving the Survivors. "Our animals are dying faster than we can save them. They need all the help they can get. We will do whatever it takes and applaud any organization or individual that feels the same way. Poaching is not just an African problem any longer. It's a global problem and it is serious."
VETPAW is expanding their mission locations on the continent of Africa and preparing for their next initiative in South Africa. For more information about VETPAW, visit http://www.vetpaw.org.
About Veterans Empowered to Protect African Wildlife (VETPAW):
VETPAW is a non-profit organization dedicated to the preservation and safety of African wildlife. VETPAW focuses on the prevention of destruction through tactical planning and preparation. They fostered collaborative relationships with national parks, rangers, and government agencies in the region. The organization empowers military Veterans, to use their expertise to train and support African rangers in the pursuit of sustainable solutions to illegal poaching. For more information about VETPAW, please visit http://www.vetpaw.org.
About SAVING THE SURVIVORS
Saving the Survivors was specifically started in 2012 to care and look after rhino that has fallen victim to poaching or traumatic incidents. This includes rhinos that have been wounded, rhinos where the horn has been hacked off, and victims of snaring and traumatic incidents. Rhino survivors are estimated at between 80 and 120 animals per year that will benefit from this project. This number will increase as the amount of poached rhinos increase. While a few of these animals are brought in to our hospital, most are being treated in the bush in their normal environment as transporting these injured animals are just not possible or feasible. The areas we frequently visit are Mpumalanga, Limpopo and the Northern Cape. For more information about Saving the Survivors, please visit http://www.savingthesurvivors.org