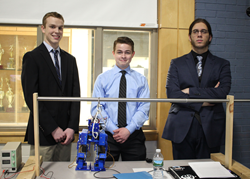 Lexington, MA (PRWEB) July 05, 2016
Over the course of their final year at Lexington Christian Academy, three outstanding graduating Seniors completed capstone projects through the Advanced Senior Research program. In the program, Michael Burrowes of Woburn, MA, Noah Parker of Arlington, MA and Drew Pelusi of Winchester, MA chose subjects they held deep passions for among the fields of academics, arts and service. The results were presented during a special, celebratory exposition on May 24th in front of the ASR committee, faculty and parents.
Burrowes, Parker and Pelusi each produced sophisticated projects through their efforts in Advanced Senior Research. Burrowes delved into the field of audio synthesis, advancing his skills in coding, instrument construction, and musical composition and conducting. Parker described his project as "involving designing, building, and programming a 3D-printable bipedal robot. The robot is easily replicable and affordable, making simple bipedal robotics more accessible for education." Finally, Pelusi worked to create a 3D video game with an original concept that he designed and programmed.
All three students took full advantage of the opportunity that Advanced Senior Research provided for them. David Jackson, Director of the program, was thrilled with his mentees' successes. "The Class of 2016 produced three memorable projects," said Jackson. "Each had to cultivate their patience, problem-solving, public speaking, and theological reflection on their chosen fields of investigation. As a result, these students are better prepared to contribute in their fields in a way that gives glory to their creator." Head of School Tim Russell spoke proudly of his students' accomplishments as well, noting, "These distinguished scholars are just acquiring rote knowledge, but their interest and inquiry are molding the contours of reality and our understanding of things previously unknown."
Burrowes appreciated the opportunity that Advanced Senior Research provided for students whose "passions lie well outside of conventional tracks." He added that, "the program equipped us with the tools to research thoroughly, record our work, and present our findings professionally without limiting the content of the projects. It is a very effective addition to the curriculum."
Advanced Senior Research, described by Jackson as an "intellectual odyssey," annually furthers the school's pursuit of the integration of faith and learning, and serves as another testament to the numerous opportunities that come with an education at LCA.
Lexington Christian Academy is an independent college preparatory school that exists to educate young men and women in the arts and sciences in the context of a complete commitment to the gospel of Jesus Christ.