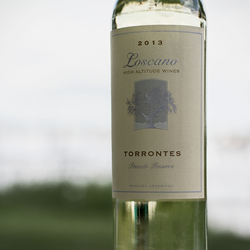 Everyone at Loscano – High Altitude Wines works diligently to put the best possible wine into every customer's glass, to be acknowledged as one of the world's best is simply tremendous. - Grant Jennings, National Distribution Manager, Loscano
San Francisco, CA (PRWEB) July 05, 2016
The tasting panel at this years prestigious San Francisco International Wine Competition (SFIWC), an annual competition that has been setting the standard for professional wine judging since 1980, lavished Loscano Vineyards with the following points and medals:

Loscano Torrontés 2015 - 95 Points, Double Gold, Best Torrontés
Loscano Grand Reserve Cabernet 2010 - 94 Points, Double Gold
Loscano Grand Reserve Malbec 2012 - Silver
Loscano Merlot 2012 - Silver
"The SFIWC has been established as a reliable indication of wine excellence, and wine recognized as medal-worthy by our judges and universally understood to be among the very best" - http://sfwinecomp.com/about
All wines are judged by 50 leading palates from around the U.S., as well as Germany, Australia, and New Zealand. Judges from the sectors of retail, restaurants, winemaking, media, and consulting judged over 4,902 wines from 26 countries and 29 states. "It is such an honor to be recognized by such an esteemed group of our peers. Everyone at Loscano – High Altitude Wines works diligently to put the best possible wine into every customer's glass; to be acknowledged as one of the world's best is simply tremendous." said Grant Jennings, National Distribution Manager Loscano Vineyards.
About Loscano Vineyards:
Loscano wines are produced with a belief in the exceptional climactic and environmental characteristics with which we are blessed in Argentina. We're passionately committed to crafting the most authentic wine possible. By minimally interfering in the process we let the wine speak for itself and Argentina. Loscano Vineyards is located in Cafayate, Salta (elev. 5,577 feet) and Luján de Cuyo, Mendoza (elev. 3,300 feet). Loscano's wines fall between the US $10 to $30 range. It is imported by Vinocopia and represented throughout the United States under strategic distribution relationships.
To learn more, visit http://www.loscano.com