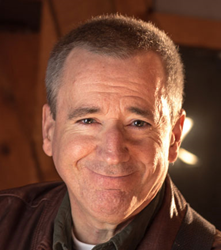 "If this song gives just one person in Orlando solace, it will have been worth the effort,"
Norwalk, CT (PRWEB) July 06, 2016
There are hundreds of home-made music video tributes of solace to the Orlando Pulse Nightclub shooting survivors on YouTube. But one is attracting more than five times the number of views than the others.*
Why is this music video so popular? Singer songwriter Will Baird, its creator, says, "It's the song itself. The most common viewer comment is about the beauty of the song." As a result, Baird also recorded the song, "I Carry a Candle for You" in the studio for free download at his website ([http://www.willbaird.com).
In the video, he sings the song alone with just an acoustic guitar, surrounded by candles in his darkened living room using just two iPhones as cameras. "I chose candles because they're a symbol of hope," Baird says.
The song starts with a loved one searching for someone who was in the Pulse nightclub during the shooting. They find them and start to see how the experience has changed them.
Ultimately the theme is one of peace and comfort: "For you / I carry a candle / For you / For hope I dream / For no more loss / No more pain / For peace to come down like summer rain / I carry a candle for you."
The original homemade video can be seen at this link.
"If this song gives just one person in Orlando solace, it will have been worth the effort," Baird says.
For further information, contact Will Baird at (475) 266-0202 or will(at)willbaird(dot)com.
----------------------------------------------

Based on an analysis of the first five pages of YouTube search listings for the term "Orlando Tribute" conducted at 10:30 am on 7/1, the average number of viewers for 40 postings by private individuals was 1,638, whereas Baird's video attracted over 9,000 viewers as of that date.